Software spotlight: Microsoft File 1.00
Microsoft file is an easy to use, non relational, database program for the Apple Macintosh. You can build custom databases with text, numeric, and pictorial fields. You can then enter or view data through GUI based forms and reports. Microsoft File features a visual form and reports builder that enables you to quickly build a customized database user interface.
Trivia: There was an MS-DOS version of Microsoft File, but it was only sold in Japan. (Source: InfoWorld Jan 21, 1985)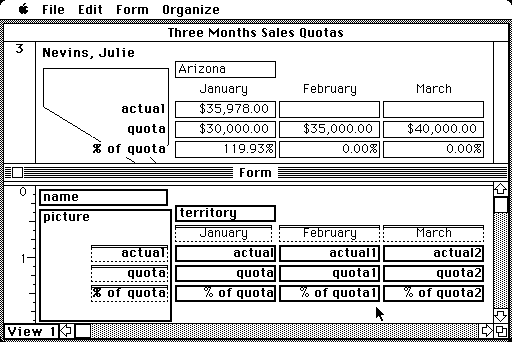 https://winworldpc.com/product/microsoft-file
I find this application interesting because of its simplicity compared to "modern" database development tools that are supposed to facility rapid application design.
It appears it should be able to run even on an original 128K Mac. It can run off of just a 400K floppy, although a hard drive is really required to do real work – especially if you embed graphics!
I don't think it is the first to provide form and report builders, but it is certainly among the first to use the Macintosh GUI, in a way that is recognizable today.
Pretty much everything is drag-and-drop. I don't think there is even much that you CAN code here. You certainly don't have to hack around with piles of HTML or brain-dead scripting libraries written by some zombie from India.
Another interesting thing about it, is how much it feels like early versions of Microsoft Access (no relation). It is interesting to note that while Microsoft made Microsoft File product available as part of it's early office offerings, they never ported Microsoft Access to the Macintosh.
Leave a Comment