Latest experience archiving crufty disks
Let me tell you about my latest archiving experience.

I have not had a disk this bad in quite a while so I wasn't very prepared for it.
I got a set of disks that had some really bad residue on them. It looks like condensation had repeatedly formed and evaporated inside the disk jackets. The area immediately under the opening looked fine, but manually rotating the disk a bit and I saw this: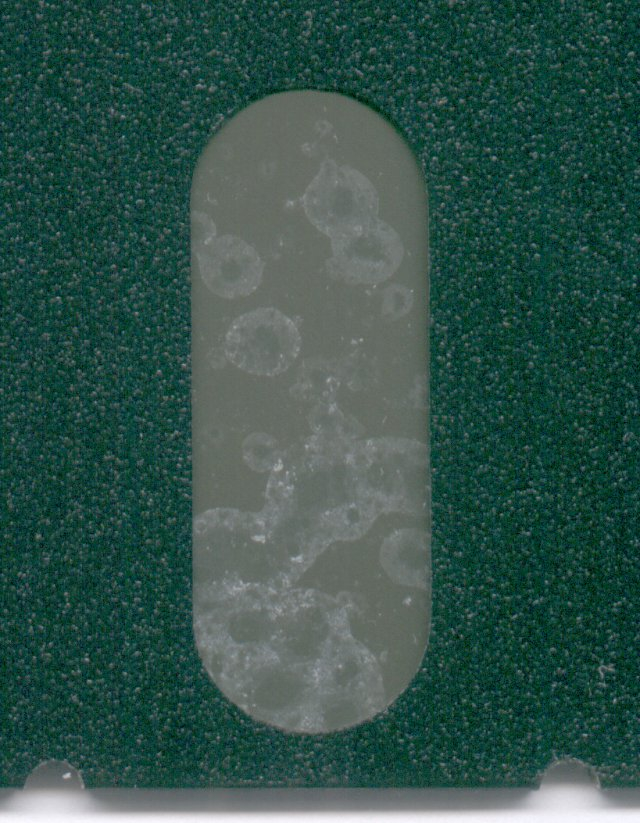 I ran the disks through my usual water rinsing process, after which they visually looked good.
However when I put a disk in the drive, it made an unhealthy screeching noise. The heads were actually sticking to the surface of the cookie, even though the surface looked and felt fine. Unfortunately this initial attempt put a small nick on the surface.
The last time I ran in to that kind of screeching was from some Wabash disks (the worst brand of disks ever made, they would fall apart when they were new!). I don't know what brand of disks this set really is.
I gave the disks some additional cleaning with a q-tip and water. I was afraid that if the disk was ready to shed its oxide, using Isopropyl alcohol would cause additional damage to the disks. That happened with the Wabash disks.
After a crazy amount of cleaning, there was still some sticking/screeching. I have a faulty 5.25" drive sitting out that I can use to test inserting and manually spinning a disk with drive heads loaded. Even gently turning the drive motor I could feel the heads quickly sticking and releasing. However, I noticed after a few spins the sticking decreased. Presumably the heads were rubbing off some of the gunk.
I eventually gave in an just had at it with the Kryoflux. Surprisingly it read in the data even though there was some small screeching. After a few rotations on each track, the screeching did go away and I was able to retry several times with better results.
The process did put a few additional nicks and scratches on a couple of the disks, and one of the disks did manage to "foul" my drive. I expected this would happen so I made sure to run a cleaning disk through after each try. It left the cleaning disk very dirty!
But surprisingly, in the end I managed to get all of the data off. The 360k drive was able to read the disks fine, although my 1.2mb drive complains about a few bad sectors.
In retrospect I kind of wish I had spent more time manually slowly spinning the disks, and stepping through all of the tracks. That might have picked up more gunk while doing less damage.
The pros use cyclomethicone lubricant to get around this sort of problem, as well as a "baking" process to prevent shedding, but I don't run in to disks quite this messed up every day.