Software Spotlight: WinGraph
WinGraph, from Media Cybernetics of Dr. Halo fame, is a rudimentary business graphing presentation program for Microsoft Windows 2. But it can run under Windows 1!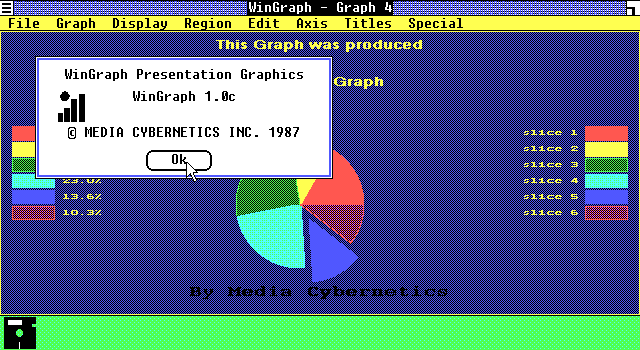 https://winworldpc.com/product/wingraph
Yes, yet another Windows 1.x compatible application.
Officially WinGraph requires Windows 2. The executable's expected OS version number is set to require Windows "2.01", but Windows 1 ignores that. The drop down menus have "&" signs in them denoting hotkeys that are not available in Windows 1. But other than that, it seems to work fine. Almost certainly it was written for Windows 1 and then bumped before shipping.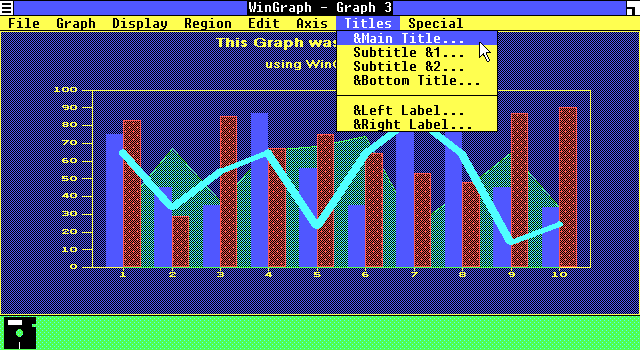 WinGraph is not very feature-rich or customizable. It does what it says, enabling users to create line, bar, and pie charts, and import data from Lotus 1-2-3, Multiplan, or dBase III files. It can export graphs to TIFF or Halo CUT files.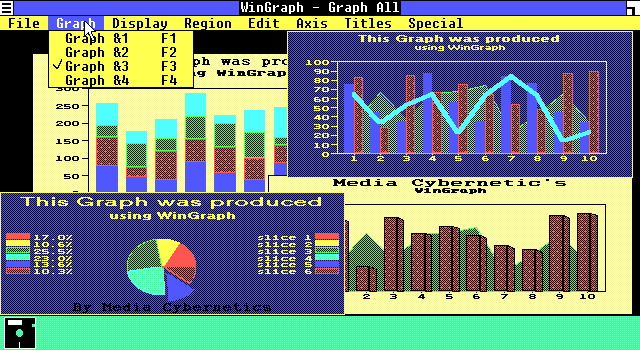 It supports working with four graphs at once, includes a slideshow utility, and touts the ability to work with other programs at the same time under Microsoft Windows. Most of the graph layout is predetermined, and not customizable.
WinGraph is a Windows port of Media Cybernetics Nimbus charting software product. Unlike Nimbus, WinGraph does not support film recorders. Nimbus itself is based on the Halo Graphics Tool Box programmer's toolkit, that was used to create Dr Halo, and other applications.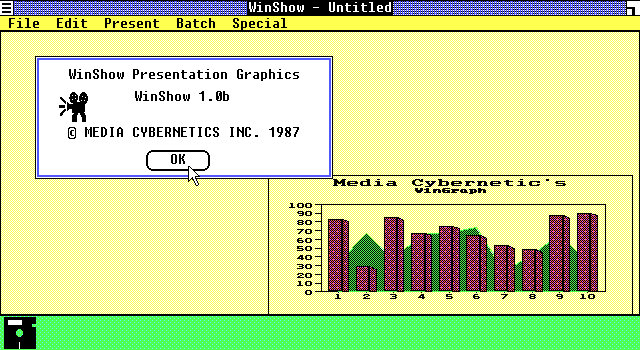 So, not very fancy, but another program for Windows. There is very little information about Media Cybernetics WinGraph out there. It seems like it was just a small tool, possibly meant as a potential companion to other products, and not strongly marketed. I didn't even know Media Cybernetics made Windows programs.
It would have competed against Micrografx Windows Graph for Windows 1, of which WinWorld has a demo, but we are still looking for the full version: https://winworldpc.com/product/micrografx-windows-graph/1x
BTW another new addition, Show Partner FX https://winworldpc.com/product/show-partner includes a Windows native screen shot utility that works under Windows 1 and 2.
Leave a Comment