Howto: Install OSes into a Virtual Machine
I really didn't think that someone would need instructions like this but, after having to answer 5 questions on IRC this week on how to set up Virtual machines, I decided I'll post some tutorials on how to set up some of the legacy virtual machines that some people don't really use as much anymore (anything before Windows 2000) so people have some basic installs of Windows for people to play with. I really didn't think this would be necessary, but oh well.
I'll start off with showing how to install the Windows 9x series. Windows 95 and 98 installs should be the same.
Begin with downloading a boot disk from Winworld. I usually stick with a
custom Windows 98 install disk
(which I don't seem to see at the moment, so I'll mirror the one I use) In addition to that, download one of the ISO files from the site too. For this tutorial, I'm using the 95A cd. Personally, I suggest you use the 95C install CD found
here.
For this tutorial, I will be using VMWare Player to run my virtual machine. That's because it's the only one I have installed at the moment. Start with opening VMware Player. You'll get the following screen (Minus what I already have set up on my machine.)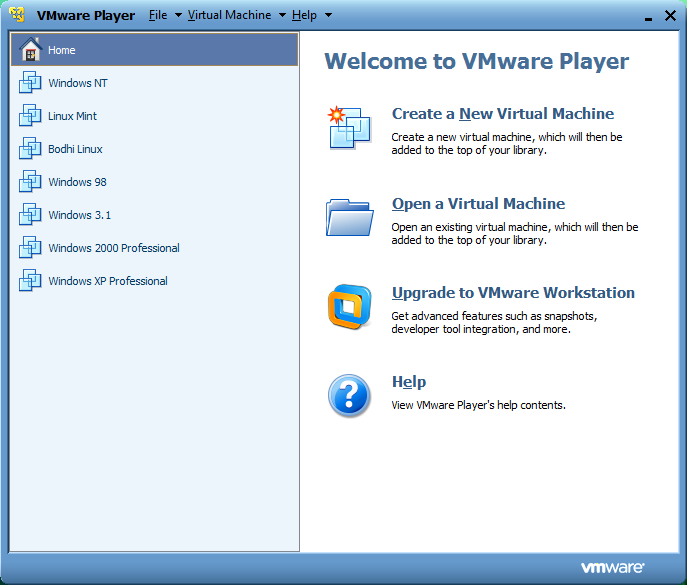 Click "Create a New Virtual Machine." You will be greeted with this menu.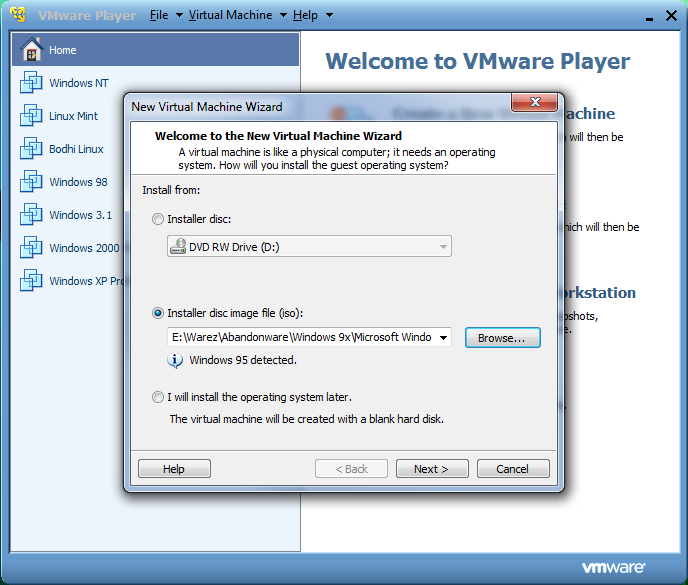 I assume you are smart enough to have extracted the 7zip file to wherever you wanted it to be already. If you didn't do that, you're a moron who shouldn't be attempting this to begin with. Go ahead and click browse to navigate to your folder where it's extracted to. Windows NT 4 and Windows 95 and newer should be automatically detected by Vmware. Click next.
Choose wherever you decide to save this virtual machine to. It's your choice for that window. Click next afterwards. You should be greeted with this window: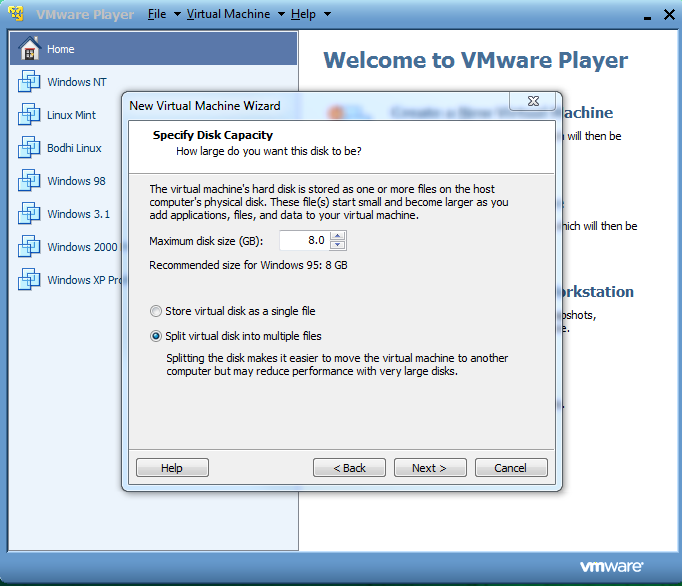 The defaults should be okay, however I feel like for a Windows 95 install, 8GB seems a bit excessive. I used to manage 95 in less than 2GB just fine. If you are going to be using a older version of 95 (I'd say 95A or earlier, change the disk size to 2GB!)
Vmware will finish it's wizard and give you these defaults: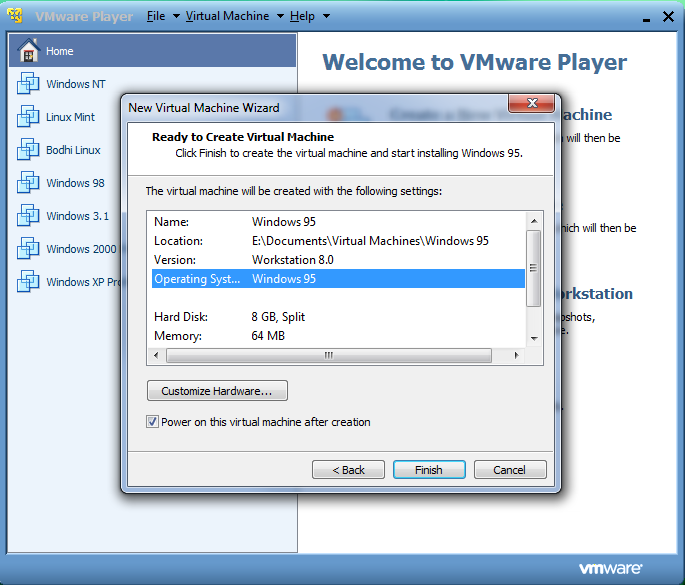 64MB is more than enough for Windows 95. Go ahead and click Finish. The virtual machine should boot. If you chose a Windows 95C disc or higher, it will boot off the cd and right into setup. 95B will dump you to a dos prompt. 95A's CD is NOT bootable. If you get the network boot screen with any of these cds, click the menu Virtual Machine and go to "Virtual Machine Settings". Select floppy.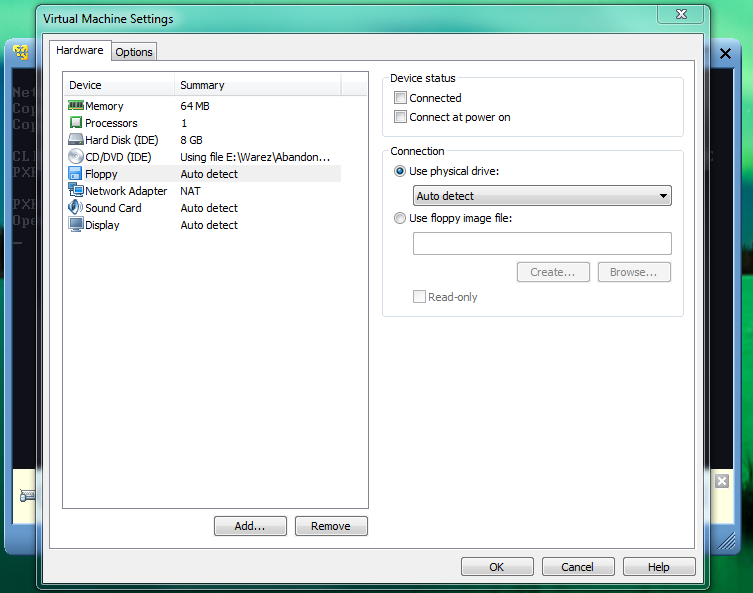 Choose "Use floppy image file and navigate to a boot disk file you downloaded earlier. My disk image is a .IMA file, so you have to hit the pull down menu to the side and make sure it displays all files.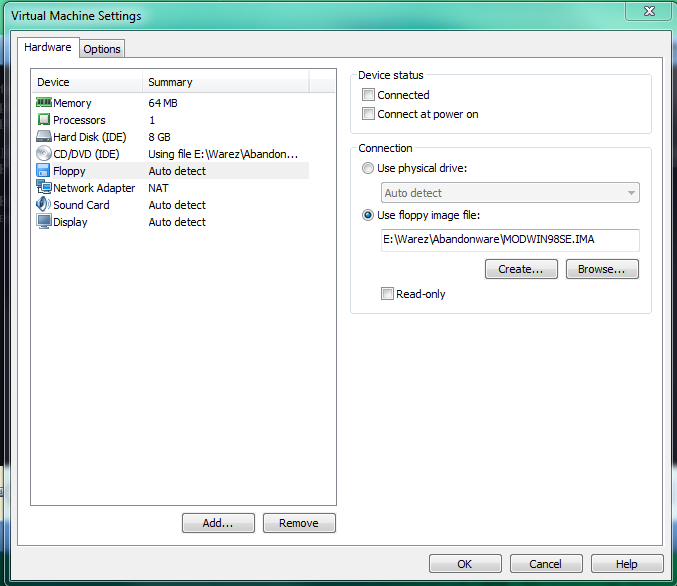 Hit "connected" and then Hit okay after you see your disk chosen.
Go to Virtual Machine > Send Ctrl+alt+delete to reboot the virtual machine.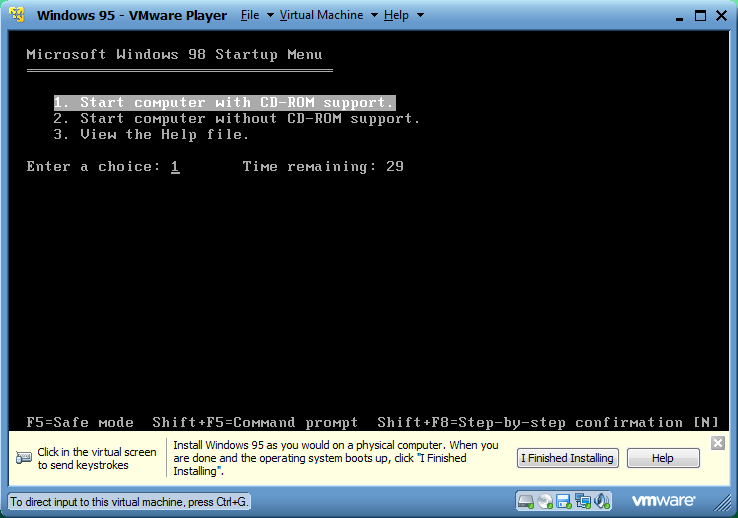 Accept the default option to boot with CDROM support. It's not needed yet, but select it anyways.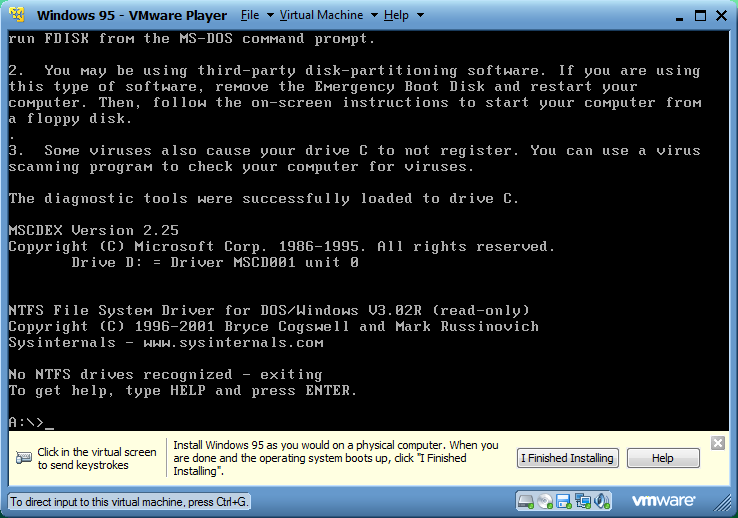 With the bootdisk I use, you will get this nice error as you boot saying that there's no partition table. For a clean VM with nothing on it, this is typical. Type "fdisk" and hit enter. You will be greeted with this: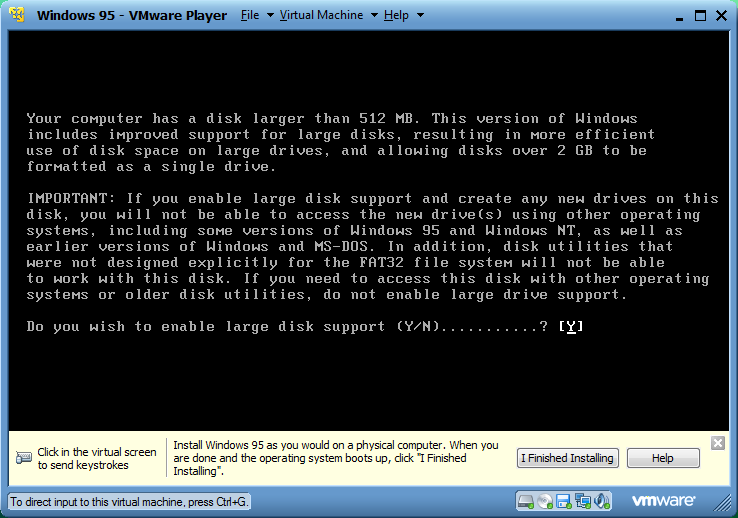 If you are using OSR2, you can type Y and hit enter. If you are using 95A or earlier, type N and hit enter. Those earlier versions don't support FAT32 if I recall.
Welcome to FDISK.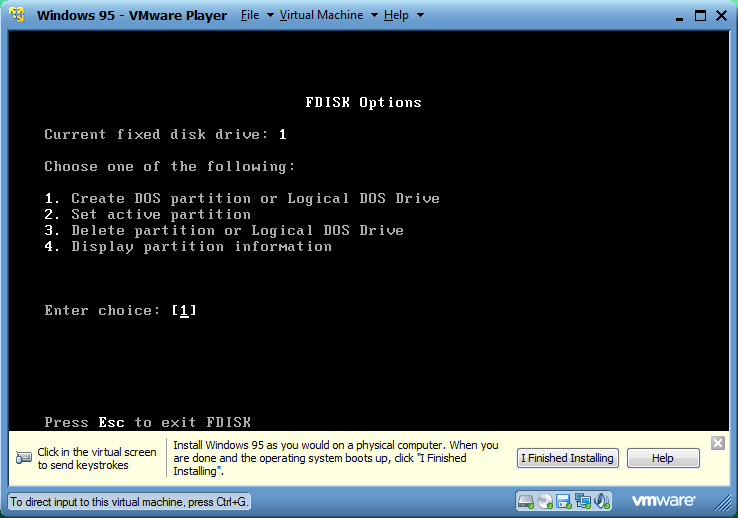 Type 1 and hit Enter.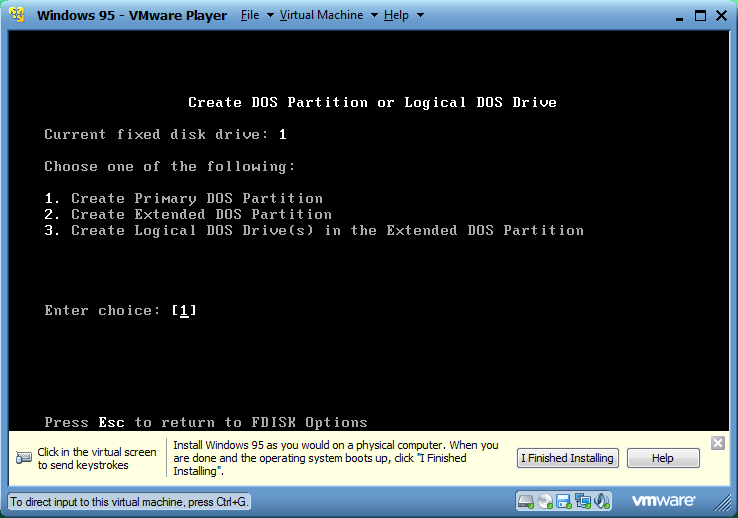 Type 1 again at this screen and hit enter. It will verify drive integrity and present you with this screen: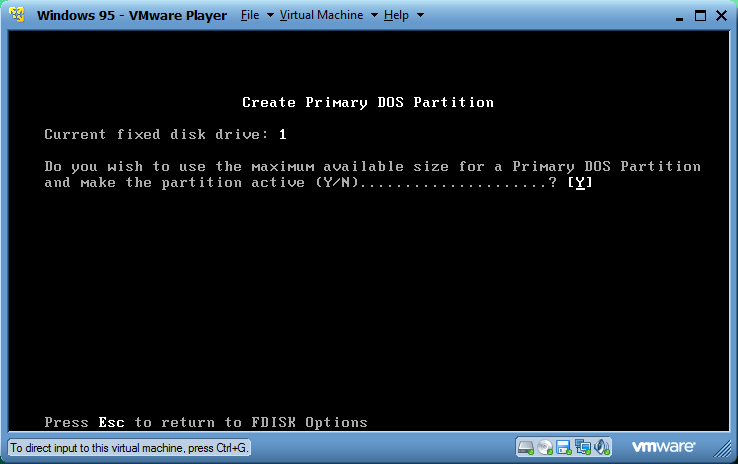 If you have large drive support enabled, or if your disk is only 2GB large and large drive support is disabled, just hit enter.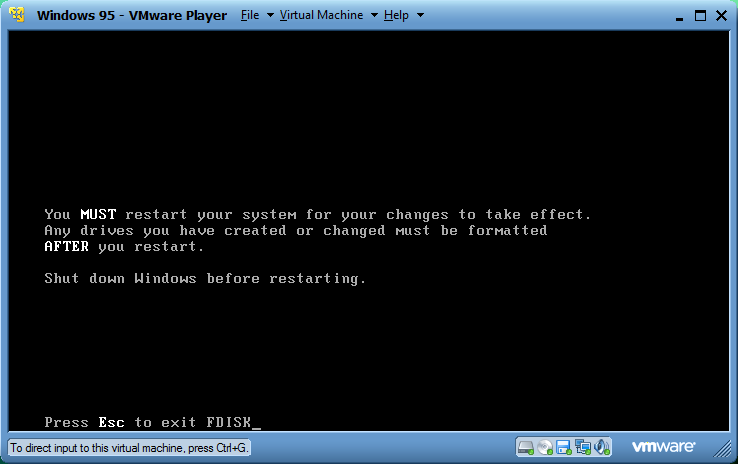 Next is this warning. Hit escape and get dumped back to the dos prompt. Restart the virtual machine using the ctrl-alt-delete option in the menu.
Now, after the machine reboots, wait until you get the A:\> prompt and type "Format C:\" and hit enter.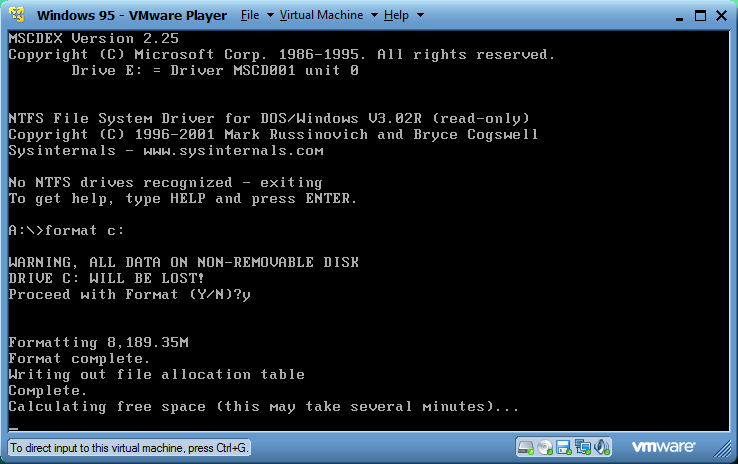 At the end, it will ask you if you want to enter a volume label. Go ahead and name it Win95 (or whatever you're installing to it). I do this so I can toy around with the disk images sometimes.
Now make a directory on the cdrive named "95inst", copy the entire contents of

to that folder. (This can be done by doing "C: cd 95inst copy d:\*.* c:\95inst)
Now, you have a choice, install from that directory, or the disc. I still use the cd and have that 95inst folder as a fallback.
Type

\setup to run setup from the cd or type C:\95inst\setup.exe if you are running from the hd.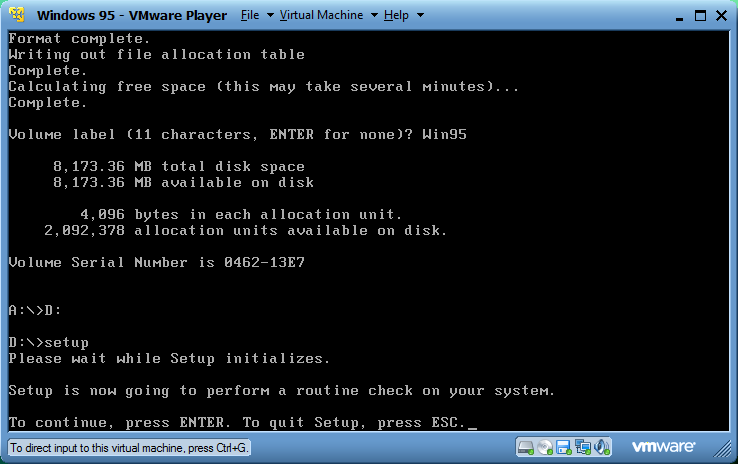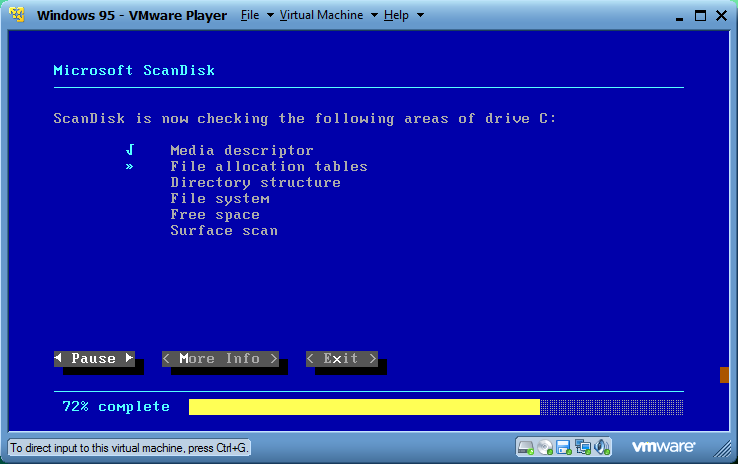 Scandisk will run, allow it and when it finishes and says there's no errors, hit right arrow then enter.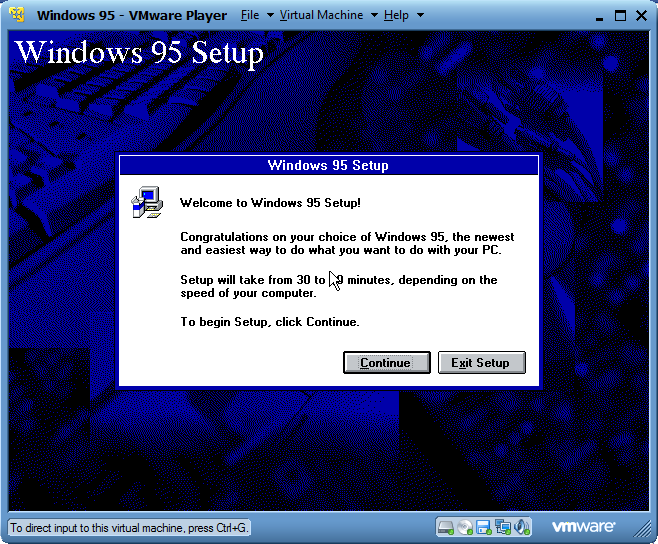 Welcome to the 3.11 styled 95 setup. Hit continue.
Accept the license agreement, since nobody reads those, and begin the 95 setup wizard. I really don't hope I have to show people through this part. Accept all the defaults.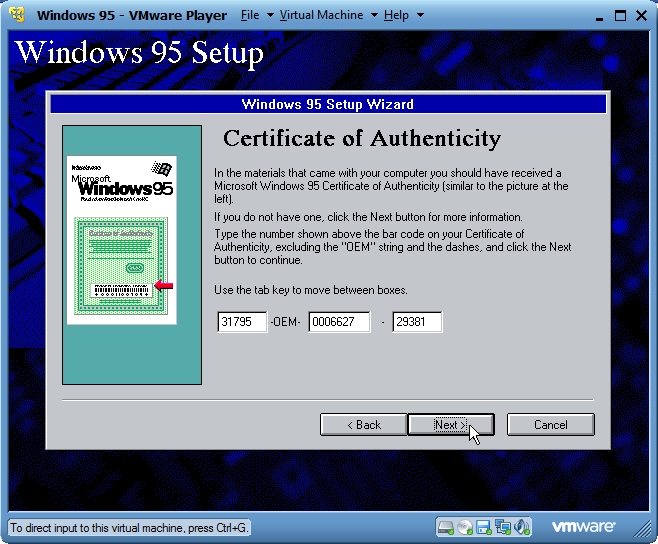 Use a license key from
this topic
.
Enter whatever you want for your name/company.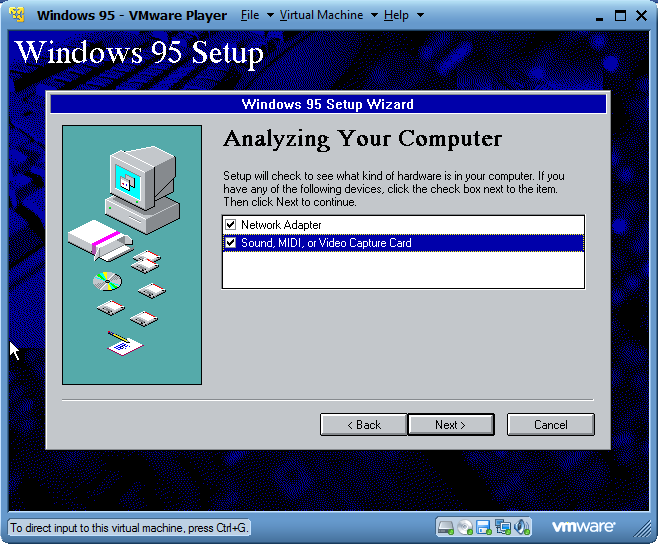 For hardware, select both boxes and hit next.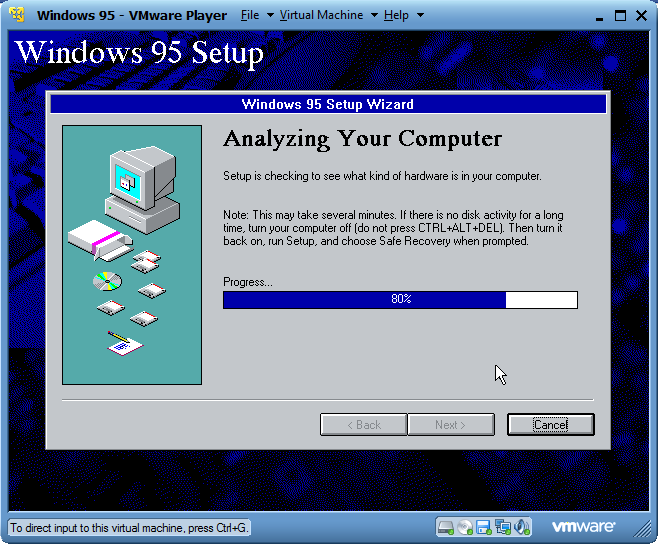 Wait for them to be detected. It's typically useless, but I always do it.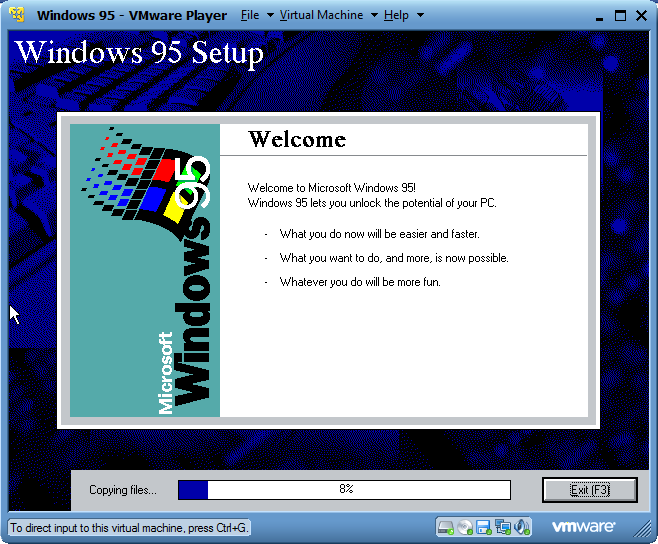 It takes 4 minutes to install 95 from here, max usually for me.
Wait until it asks you to reboot.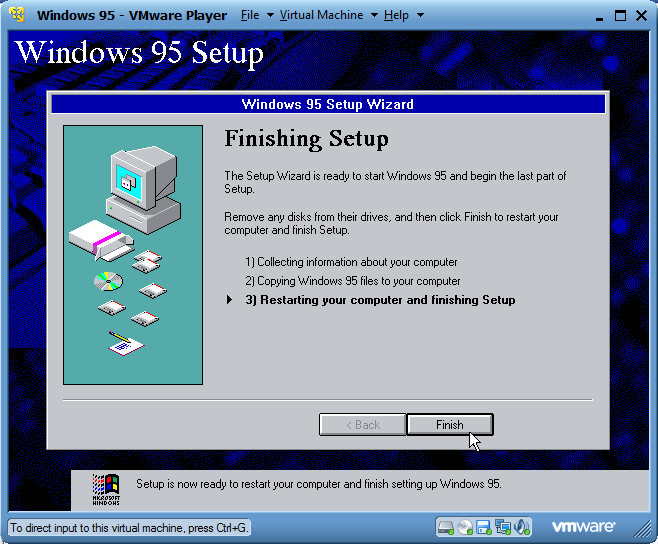 At this part, right click the cd icon and hit disconnect. Do the same for the floppy.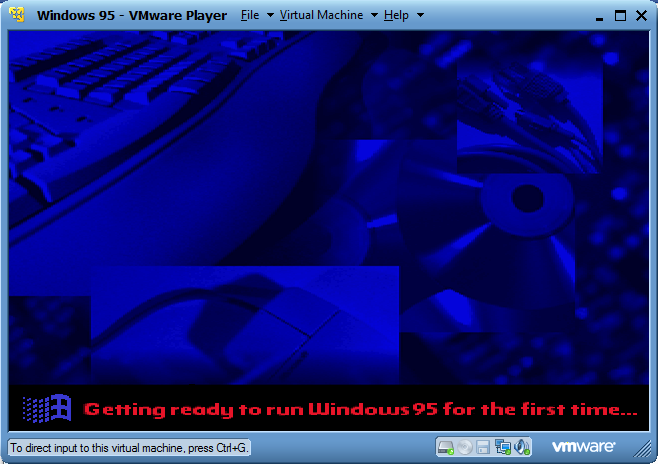 As it's booting, right click the cd icon and hit connect, that was to keep the virtual machine from booting off the floppy (or cd if yours was bootable)
If you didn't, you will get this error: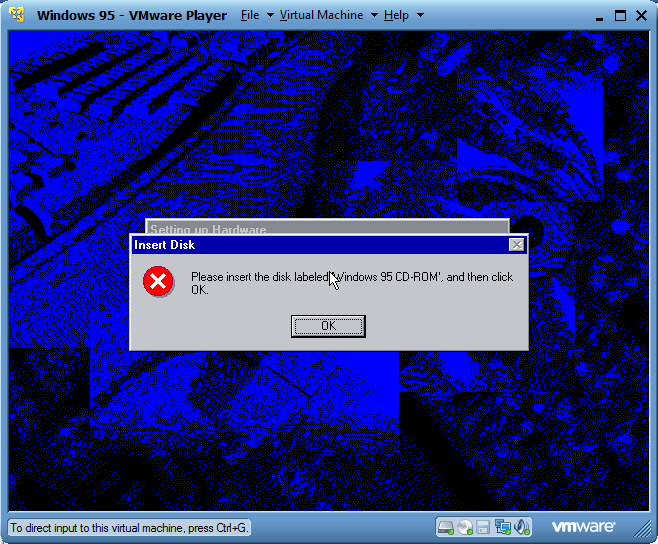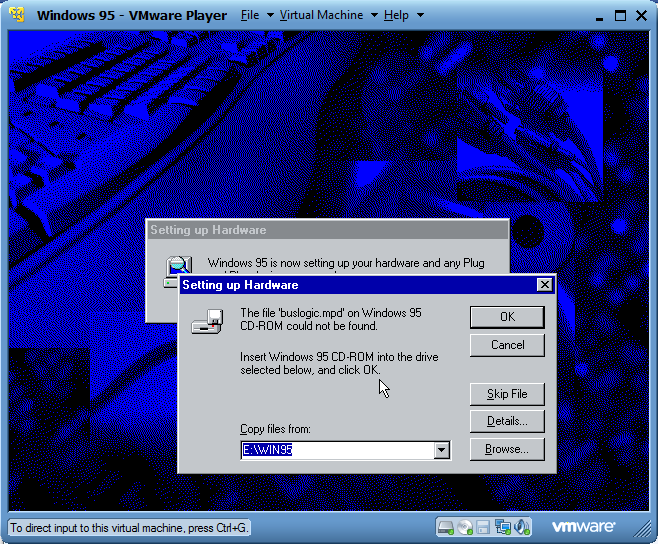 Times you will get this if there was a ramdisk too, if you do, hit browse. On the older 95 installs, it won't detect the cd drive at all in setup right now. It's kind of weird. This is avoided if you copy the cd's contents to your harddrive. If you didn't do this, you can typically skip these and you'll get a bunch of errors on your final reboot, typically related to networking components. You can ignore these typically.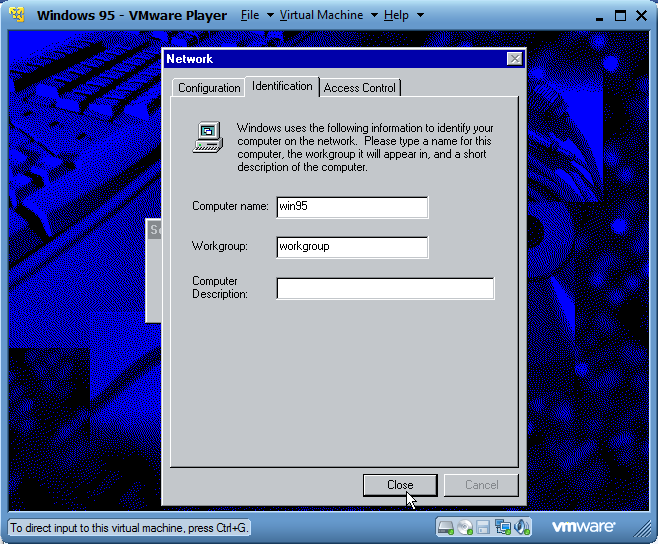 If you get a networking message like this, go ahead and fill it out. After this, it will ask to reboot.
You should be at the 95 desktop after reboot. Go ahead and install VMware tools. Hit virtual machine, install vmware tools. Accept defaults. The setup file will complain that IE4 is not installed. Ignore it. IE4 is useless and not needed. If your SVGA driver did not properly install, you will get an error and a text file will appear after setup showing you what to do.
Reboot the machine. If you had errors during 95 setup about missing files, they will still appear.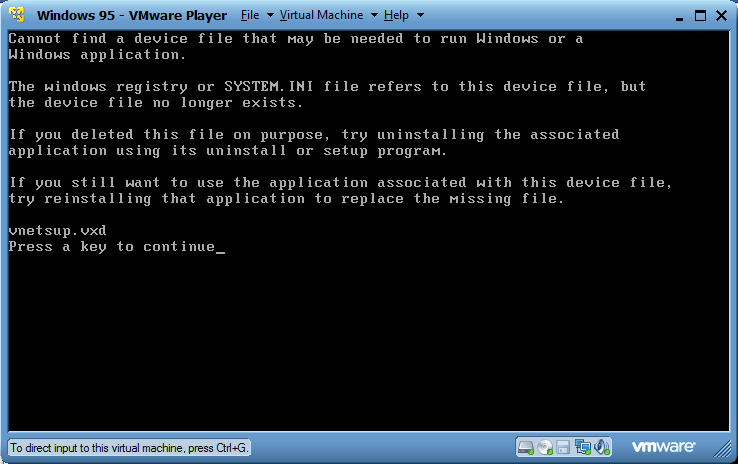 If you had those issues, I'll show you how to fix that.
Those errors are all related to networking drivers. They will need to be installed.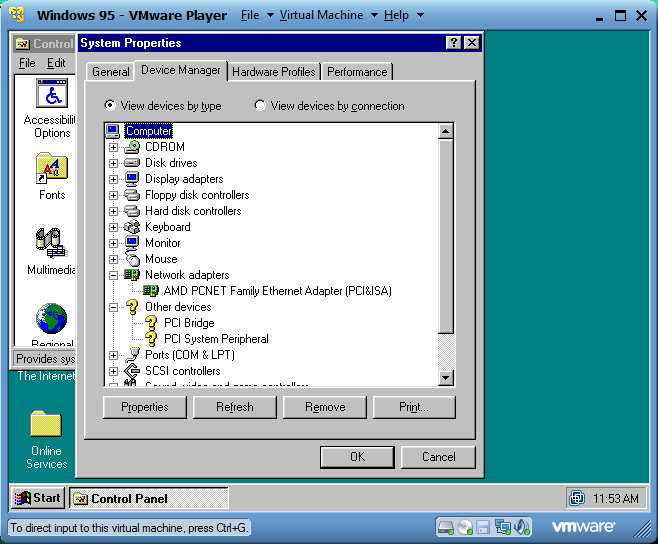 First check to see if you have your networking device installed. You can tell mine is, but there's some other crap that isn't. If it isn't, install your networking adapter using the driver with the same name as mine.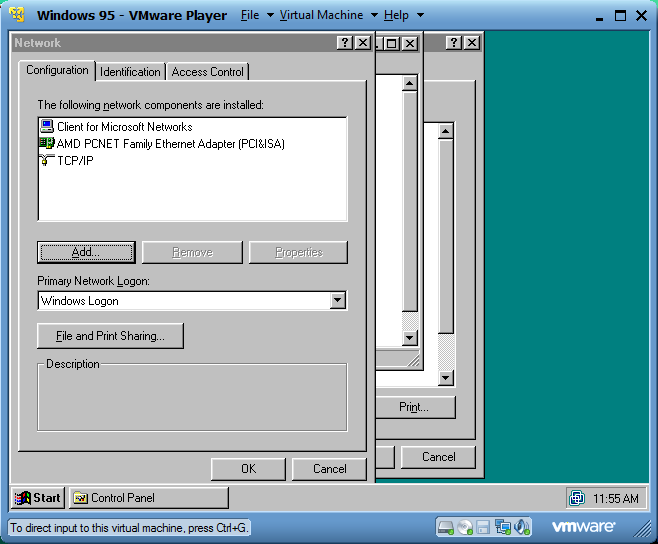 Afterwards, go to Network in the control panel. Remove all those networking components except for your adapter and hit okay. Reboot your virtual machine.
Reenter the networking option in the control panel and add network components. You only need client for Microsoft networks and TCP/IP. If you get an error about it trying to pull from E:\ change the option to

\ and try again. It should work if the cd is still mounted. When you reboot, those errors should go away.
Issues with 95:
95A is not compatible properly with Vmware tools. You can not resize the window and have the screen resolution change. It seems to work on 95C though.
95A also seems to have problems with audio drivers. They do not see the proper audio card and won't install the driver for it.
USB support is nonexistent unless you use 95 OSR2 or higher. Remember that.
I typically stick with using 98 for a 9x OS in vmware. It installs the same way as 95 does, however I never encounter the CD issue with 98's setup.
Software suggestions:
Web browsing:
K-melon
Uses the same engine as firefox. I use it in a 98 VM so it might work in 95.
SeaMonkey
- fork of the old Mozilla suite. Weird enough I've seen a useragent running Windows 95 and Seamonkey fetch my signature image in my logs, so I assume it works in 95.
I'll post a guide on how to do NT3.51 and Win 3.11 soon. It does install in vmware, but requires some tricks.