Software spotlight: Omnis 5 for Windows
Omnis 5 is a database for Windows 2.
https://winworldpc.com/product/omnis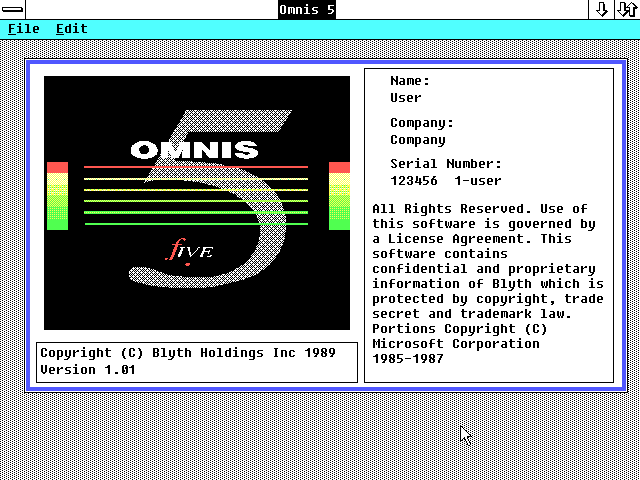 Omnis, created by David Seaman of the originally UK based Blyth software, started out as an Apple II database application written using Apple Pascal.
Omnis version 1, 2, and 3 were for the Apple II.
Reportedly, there may have been an early version for MS-DOS.
Omnis 3 Plus was later released for the Mac.
Omnis Quartz (released in 1987) was the first port to Microsoft Windows, and
ran under Windows 1.x.
This version, Omnis 5 released in 1989, was available for Windows 2, Mac, and OS/2.
I've mentioned how AMI Pro beat Microsoft as the first full word processor product for Windows. Omnis is yet another example of a third party beating Microsoft to their own platform. And Omnis 5 wasn't even the first Omnis release for Windows!
A few interesting features of Omnis 5:
-It supports multi-user access over a network (with the appropriate licenses)
-It support cross platform development between Windows and Mac (and presumably OS/2)
-Omnis 5 can even use the same data files shared over a network by machines of different types.
-Supports PC AppleShare, TOPS, 3COM, and Novell networks.
-Supports CL/1 database connectivity (primitive SQL client/server communications)
-Runs under Windows 2.x, and includes a Windows 2.1 runtime for those without.
Omnis 5 features a GUI based data, form, and report builder.
Its organization is a little odd. Different visual objects, such as menus and forms, are referred to as "formats".
It includes several sample applications. Opening an application runs it, and you may select a menu option to return to design mode. Applications can do a variety of things in this environment, although scrolling through custom data forms is the most obvious. Notably, fields may contain text, numbers, dates, and graphics.
A bit of Macintosh style is present in the sample applications. For example dialog boxes contain the mac-like icon of the face with a speech bubble.
I still haven't gotten my head wrapped around its programming language, but you may place your own code behind the actions of each control. It looks like a relatively complete language, but it seems to be built like one might build macros - pointing and clicking at command lists and dialogs.
Over all it looks fairly flexible, and comparable to other Windows desktop databases.
This version was released not too long before Windows 3.0. It sounds like there may have been an update for this version that added Windows 3.0 protected mode compatiblity. And there were later releases for newer versions of Windows.
In fact unlike many products and companies on this site, Omnis is still around in the form of "Omnis Studio" and the company is currently known as "TigerLogic Corporation".
If anyone wants, there is still one unopend box on eBay:
http://www.ebay.com/itm/SEALED-Vtg-Omni ... 3f4fbeecaa
Leave a Comment