Software Spotlight: Microsoft Word X1.06 Beta
I present another very early release of Microsoft Word for DOS: "Beta Test Version X1.06". The files on this version are dated September 7, 1983. Despite the higher version number, this predates the October 1983 release of Microsoft Word 1.00 for DOS. Presumably the version number was reset for the official release.
https://winworldpc.com/product/microsoft-word/1x-dos
(might move it to a pre-release group later now that it is more clear the PC-World demo was also earlier than 1.00)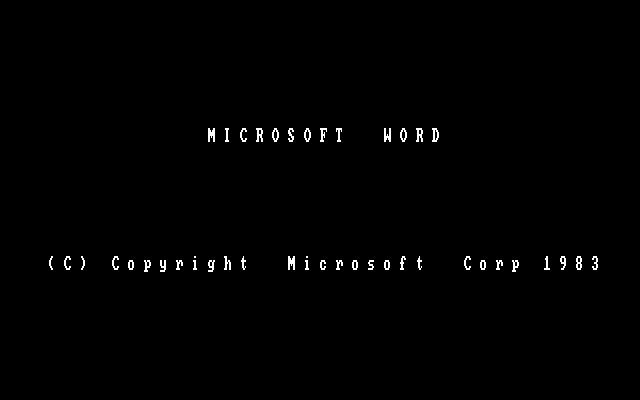 Here is a breakdown of releases that are currently known:
8/2/1983 - Microsoft Word PC World Demo (Internally identifies itself as "Microsoft Word Preview Version P1.02", labeled as Microsoft Word, Word Processing Program Preview Demonstration Version - PC World Volume 1, Number 9 Software Review)
Available here at Winworld
9/7/1983 - Microsoft Word "Beta Test Version X1.06" for MS-DOS (this version)
10/13/1983 - Official Microsoft Word 1.00 (Only known from a photo and directory listing
http://bloggingtheimagination.blogspot. ... -word.html
) And another photo on an MSDN blog:
https://blogs.msdn.microsoft.com/brunot ... -and-well/
??? - Microsoft Word 1.10 (mentioned in 1.15 manual update pages)
"Early 1984" - Microsoft Word disk with no version number on eBay a while back. Possibly 1.10. Apparently I forgot to save the photos.
9/18/84 - Microsoft Word 1.15
Available on Winworld
Although perhaps not meaningful, the Word 1.x manual has a date of August 1, 1983 in one of the diagrams.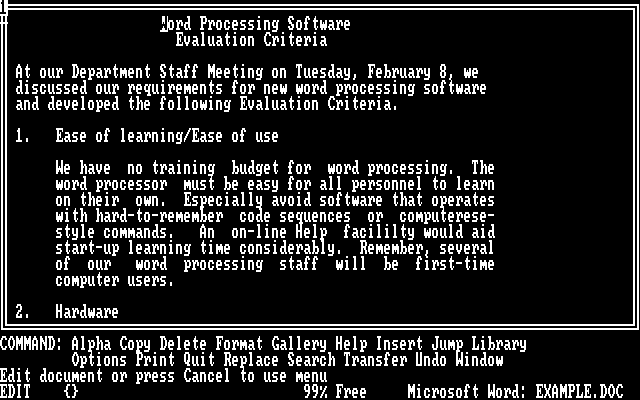 Interesting things about this software:
- It does seem a little buggy, but I don't know how this compares to the official 1.00 release.
Still, it seems a little more stable than the PC-World demo.
- The conversion tool still refers to Word as "Microsoft MULTI-TOOL WORD".
- This version is NOT copy protected.
- Program name is word.com, not mw.com (same as PC World Demo)
- Includes printer related stuff and a converter.
- I suspect this disk was intended for a magazine review.
- The Save function works, unlike the PC world demo.
Unfortunately, I don't have time for a more detailed comparison, any differences in functionality are not very obvious.
Yea, it was on eBay. Was actually hoping it was a release version. :P
On a side note, this was accompanied by a mouse driver disk labeled "2.00" with files dated 12/31/1983. Winworld already has this version but they are labeled as "1.1" because no version number string exists in the files. Another example of why label scans are important.
So, learned a little more about the world's favorite Word Processor. Enjoy.
Leave a Comment