Software Spotlight: Instant Artist / Print Artist
Instant Artist 1.0 is one of my old favorites. - It is a card and banner creation program similar to The Print Shop. It was created by The Pixellite Group, the original authors of The Print Shop, and published in 1992 by Autodesk. It was later sold by Sierra On-Line under the name Print Artist.
https://winworldpc.com/product/instant-artist-print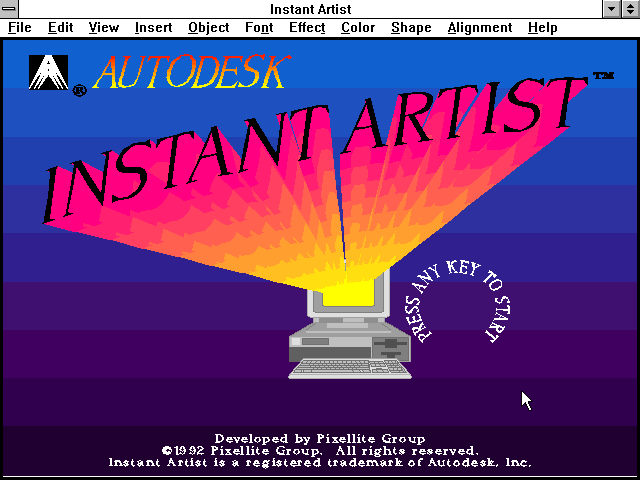 Similar to
The Print Shop
, Instant Artist is a tool that lets one easily create signs, business cards, letterheads, certificates, greeting cards, banners, postcards, and envelopes. Instant Artist, however also contains vector based technology that was also used in BannerMania.
To me, the best thing about Instant Artist was that it came with a good generic set of vector-based clipart. Other products, and even later versions of Print Artist, often suffer from overly specific clipart - clipart that only makes sense for a single very specific event and/or becomes repetitive. The Instant Artist clipart lends itself to reuse, mixing with other clipart in unique ways, and even a certain level of modification.
The vector graphics are resizable and rotate-able, and always look crisp on high resolution printers.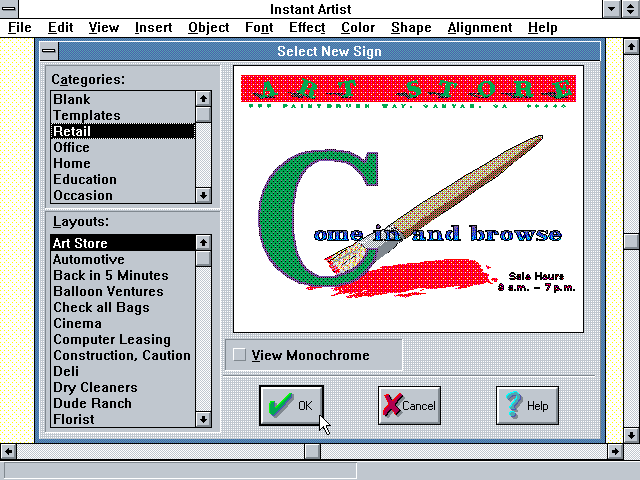 On top of that, each document type came with a fairly good selection of pre-built sample selections. It features a text font preview, the ability to import WMF files, and over all is very easy to use.
While not a complete graphics editor, it can make use of vector files created by applications like
Micrografx Designer
and
Corel Draw
.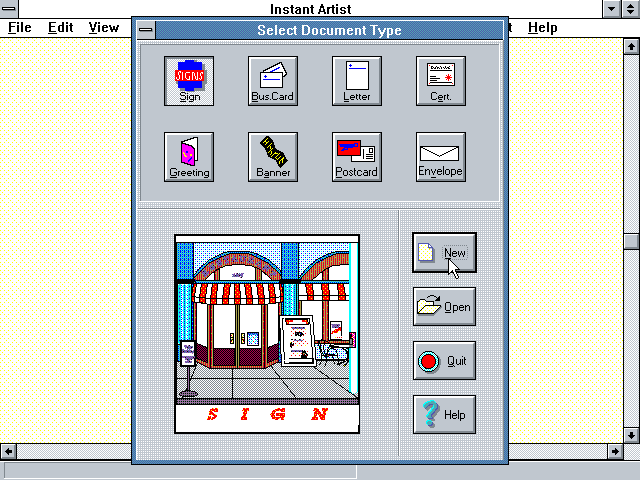 Instant Artist 1.0 is a 16-bit Microsoft Windows 3.0 application, and is a fairly well behaved application that runs on later 32-bit windows versions.
There was also a version for MS-DOS, but Winworld does not have that yet.
With version 3, the name was changed to "Print Artist" and from then on it was distributed by Sierra On-Line. It was sometimes bundled with Printers.
Print Artist 6 is kind a WTF. It was a 16-bit Windows 3.1 application released (re-released?) in 1999 but yet only "supported" Windows 95 and later. It would crap itself if you actually ran it under Windows 3.1. Later versions were native 32-bit.
I'm not positive, but I think Print Artist may have skipped some version numbers.
Time to get those greeting cards out!
Leave a Comment