Software Spotlight - IBM FileCommand
IBM FileCommand is an early alternate DOS shell. It provides a full-screen browseable directory list, with versions for both PC-DOS 1.10 and 2.0 and requires only 64k. It was advertised as a friendlier shell for DOS. However, in reality it was nowhere that friendly.
https://winworldpc.com/product/filecommand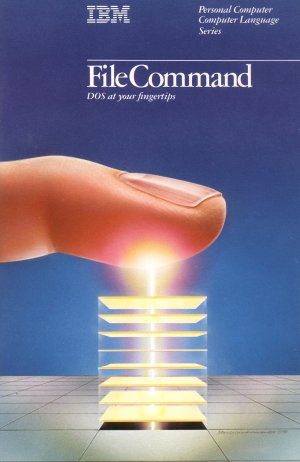 FileCommand 1.00 was released in 1983 but reportedly there were long shipping delays. Even still, at the time there were few (if any) other alternate DOS file management shells. Not only was the market fairly small, but at the time IBM PCs still had memory constraints that made using additional shells on top of dos somewhat impractical.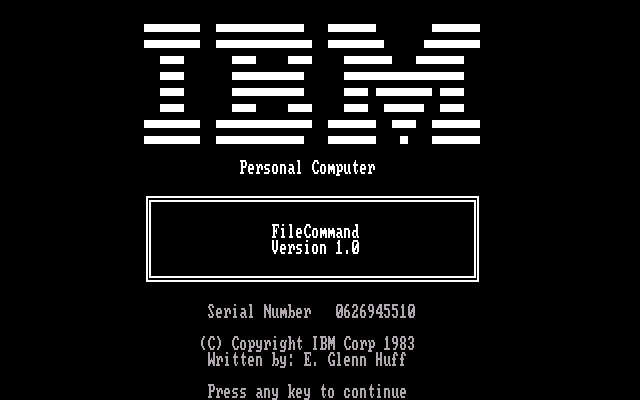 FileCommand was very poorly received. It prominently describes itself as "DOS at your fingertips", but in reality it has a high learning curve, is daunting to novice users, and provides little real advantage over a DOS command line.
A very long rant about IBM File Command 1.00 appears in the
February 1984 PC World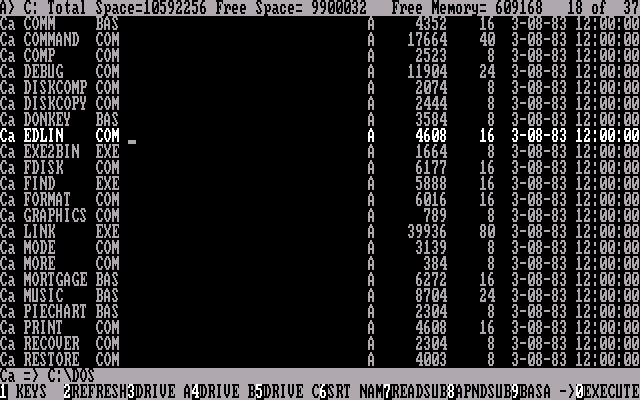 On the surface FileCommand appears to present a "visual" interface. The screen displays a full directory plus file attributes. Individual files may be selected using the arrow keys, and a menu bar at the bottom shows the available function keys.
And that is about where the "visual" nature of this program ends.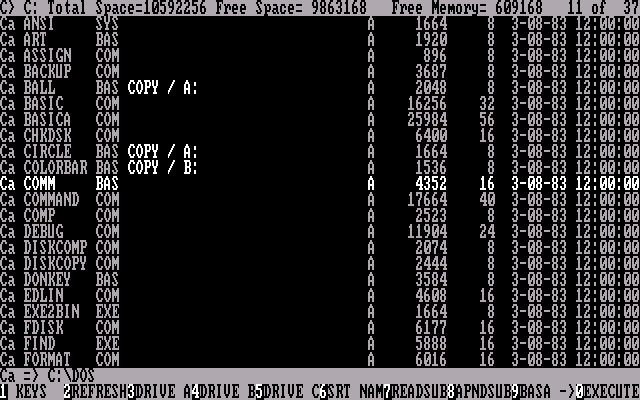 To actually DO anything with a file, you must type a command in to a special "command area" next to each file. These are not DOS commands, but rather an entire new set added by FileCommand.
These commands are documented in the manual, which you must memorize. No quick reference card is provided, and there is no on screen help. You can see a partial list of commands currently assigned to function keys by pressing "F1", but that is not very helpful.
Although you must enter the command next to a file, some commands - such as sorting - do not pertain to any specific file.
To execute the command(s), you must press CTRL-Enter. This is not obvious.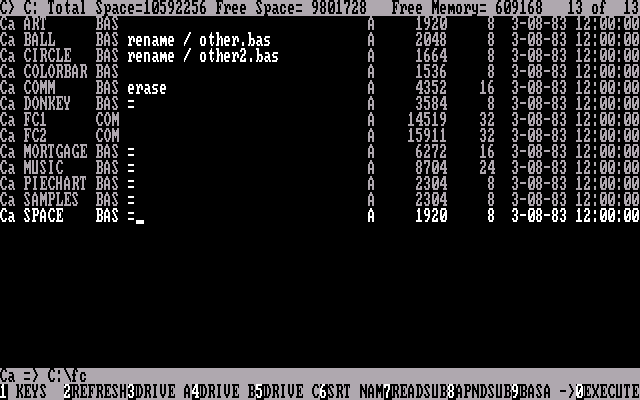 The upshot is that you can perform a large number of different operations across multiple files.
Another interesting feature of FileCommand is that under DOS 2.0, you can load the contents of multiple directories in to a single file list.
Additionally, it is possible to customize the function keys. You can associate different FileCommand and DOS commands to different function keys.
Note: To exit file command, press CTRL-F10 or type the cancel command "/c" after a file. But this only works if FileCommand is not confused trying to process the gibberish you entered in the command field. So easy to remember!
So why is FileCommand so confusing?
The reason is, this user interface is based on the IBM 3081/3084 mainframe VM/CMS Fulist/Filelist tool. (I've never used that) An IBM mainframe user would have these commands burned in to their eyelids and would feel right at home with this product.
It was successful enough that it was followed up in 1985 with FileCommand II.
In conclusion, FileCommand is notable as an early DOS shell. It would have appealed to advanced users and existing users of IBM mainframe products, however it was confusingly marketed as a tool for novice users.
Leave a Comment