My new buy, which OS to run?
So I just bought this on ebay, it's a Packard Bell Pack-mate III with mouse and keyboard, and an IBM 8512 VGA colour monitor.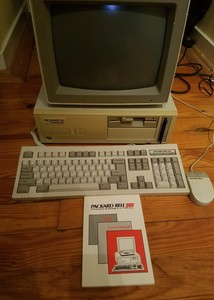 It has no hard drive, but I have a few laying around spare, or if worse comes to worse I got the CF card adapter. I'm gonna get a local repair shop install the HD for me, as I don't wanna take any chances at fucking up this machine by accident.
The seller is also throwing in MS-DOS 3.3 on both "5.25 and "3.5 inch disks, and I have a licensed version of Windows 3.1 on "5.25 disks and a regular version of 3.1 on "3.5 disks.
It has a 80-286 @ 12mhz and 1mb of ram.
Windows 3.1 recommended is a 286 at 1mb or a 386 at 2mb (of ram). So it fits within the recommended.
However, the latest date (BIOS copyright date) says 1989, one year before the release of Windows 3.0.
Since it has a 286, I think it may be appropriate as well to run WIndows 286 (Windows 2.x), would run faster, take less resources, etc. Also, as I said before, as of the latest date on the system - 1989, this was the latest version out (excluding WIndows 386, because it can't run that, lol).
I guess I could also just run the origional 3.0 release from 1990, because with these specs and no C-ROM drive, it's not like I am going to be doing anything multi-media wise.
I can't decide this conflict. Fight it out amongst yourselves!