[HowTo] Install ~15 years old Debian Linux
Hi there,
I've figured out a while ago how to install debian on an old PC online, without downloading and burning a bunch of CDs.
It only takes one CD to boot from and start the installer.
This post will be quite long with a lot of screenshots, I hope you'll like it.
I am going to write about debian 3.0r6, the last revision of so called Woody release. It was introduced in 2002. I could have chosen an older on, but i want to use KDE as well as OpenSSH, which both were introduced in 3.0.
Debian 3.0 will work on an 386 or 486 as well without problems or speed issues, depends on what you are doing with it. Starting Windows XP in a VM could bring it down on it's knees


For those old systems not able to boot debian offers floppies. I am writing about these in a later post.
I use VirtualBox, but the procedure is excatly the same on a real PC. For example I did this also on an ASUS SP97V with a Pentium 133 and 64MB RAM, ET4000W32 VGA.
I assume you are familar to create a VM, I am not going to cover this. Your VM should be configured like this:
HDD = 5GB or more
RAM = 64....256MB
Sound = Soundblaster 16
Net = PCNet, bridged
Chipset = PIIX3, Mouse = PS2
Debian Project is maintaining an archive of old stuff. You can find 3.0r8 discs here:
https://cdimage.debian.org/mirror/cdimage/archive/3.0_r6/i386/iso-cd/
Go there and just download first CD (debian-30r6-i386-binary-1.iso). Use this CD to boot your VM.
I am not posting every single step with a screenshot. Just read the instructions on screen, I'll cover the intersting part here.
System booting (notice the beer in Tux's hand):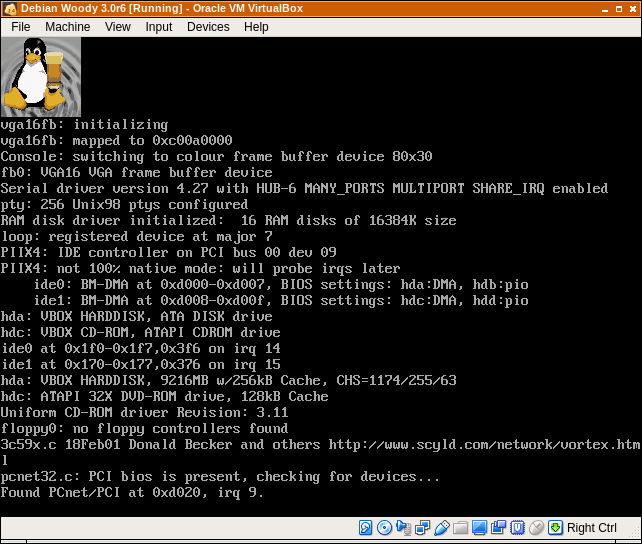 For such an old Linux Distribution, there are already a lot of available languages: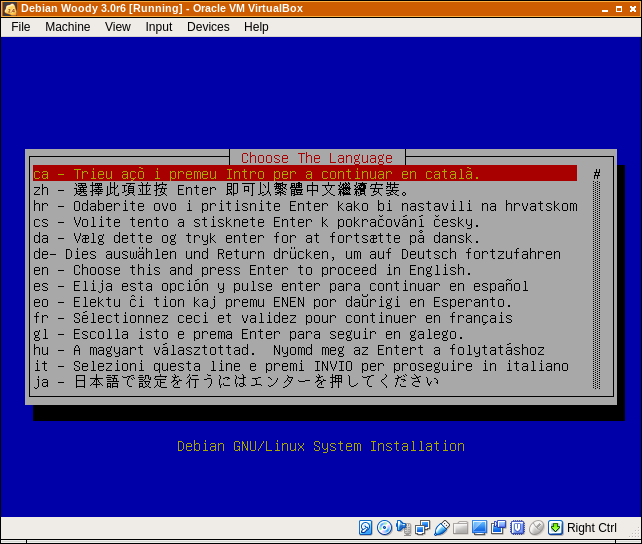 Once you're in installer main menu, you'll setup keyboard and go on to partitioning. If he asks "start with a zero parititon table", answer "Y".
Linux partition schemes are quite strange to Windows-Users, but in our case it is very simple and straight forward.
/dev/hda is the first disk on IDE channel 0
/dev/hdb is the second disk on IDE channel 0
/dev/hdc is the first disk on IDE channel 1
/dev/hdd is the second disk on IDE channel 1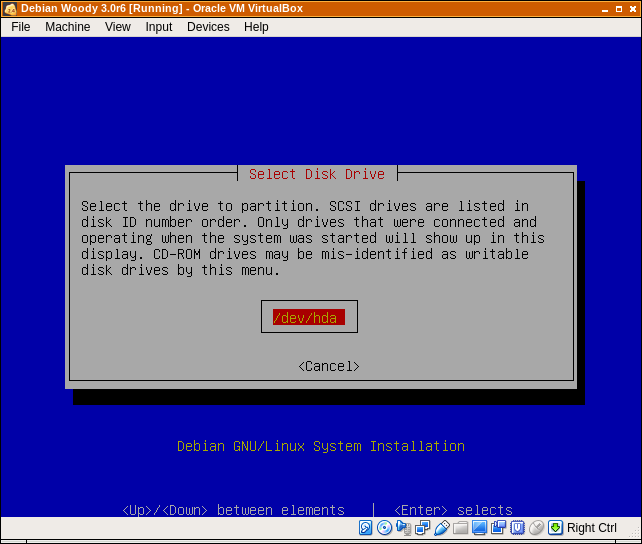 Once you have chosen your desired disk, there is cfdisk starting. It is a menu-driven fdisk tool. (Be glad, others use command driven fdisk):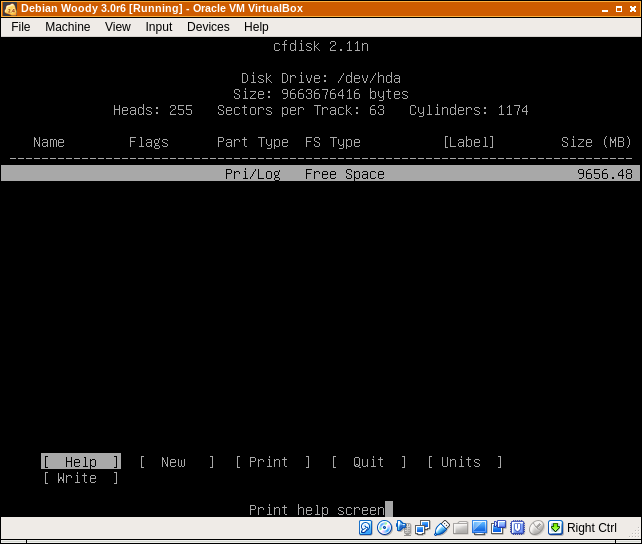 You use the arrow keys, enter, ESC, ... for navigation and create two partitions:
/dev/hda1 ALL-512MB (ex. 8GB disk=7.5GB partition)
/dev/hda2 Rest 512MB
hda1 will be our "root filesystem", where the OS and our data is stored.
hda2 will be swapspace, where OS puts memory contents if it runs out of memory.
On hda2 use "Type"-Menu to set type to "82" (swap).
On hda1 use "bootable"-Menu to make it bootable.
In the end your partition layout should look something like this: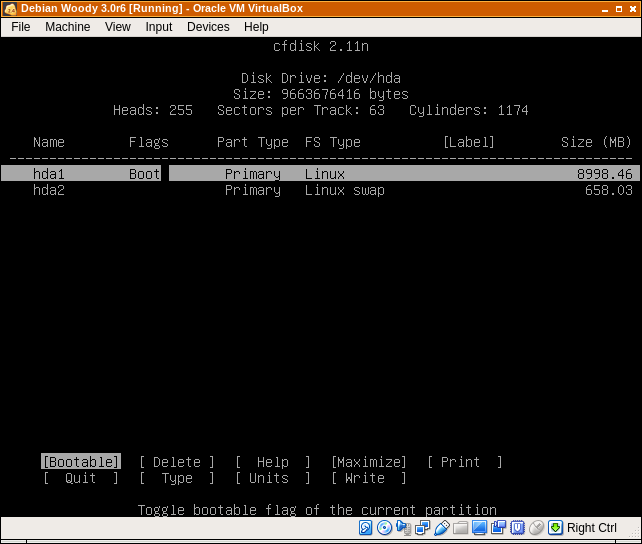 When you have done this, go to menu-entry "write" and then quit with "quit".
You'll get back to menu and will be asked to initialize swap and rootfs. If he asks
for a bad block scan, you may do this on a real PC, but in a VM it's pretty useless.
When you get to the point of network configuration, it get's interesting for us again.
If you have chosen "bridged" networking and you have normal "home router" setup at your place,
it is very simple. Just use DHCP. From router's point of view there is just another computer on the
network. You can even ping or ssh or whatever between host and VM.
After network there is "installing base system". Some you maybe remember this step taking
ages to complete, in my VM it was done before I got bored, so fast

When lilo asks, where to install, use /dev/hda, not hda1. This is only useful in multiboot-configurations,
where lilo is NOT your main-bootloader.
When he asks to make a boot floppy, it's up to you, it is optional.
After a reboot you will see this: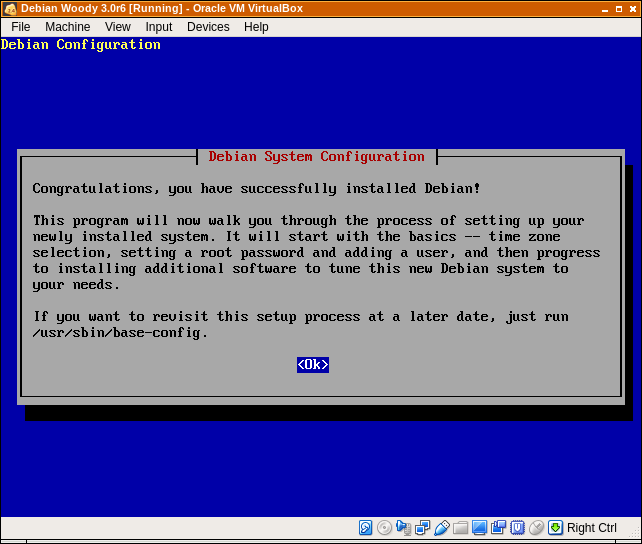 He asks a few questions about user accounts, password, ... do them and when he asks for "PPP connection for downloading" say NO.
We use direct editing of sources.list. There is a editor opening a empty file ("/etc/apt/sources.list" with 0bytes).
We add these lines:
deb http://archive.debian.org/debian/ woody main
deb-src http://archive.debian.org/debian/ woody main
End and save editor with CTRL-X and Y. He will update your local apt-repo from debian archive.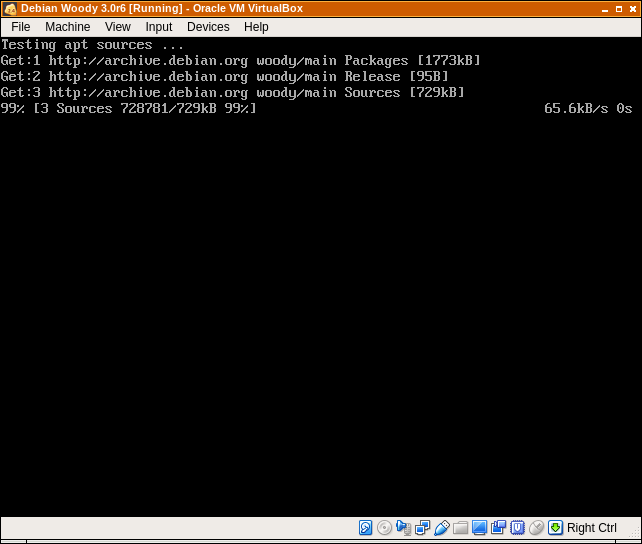 He will ask if you want to get security updates from security.debian.org, but as 3.0 is totally outdated and not supported anymore, we have to say no. We will always get the latest state of the art by the time debian 3.0r8 was frozen. More won't come.
No he asks for tasksel to start. If you are familiar to apt-get and know what you want to install (xfree86, mc, twm, blabla, ...) say no. Otherwise it's wise to use tasksel to get a selection of packages installed.
For a basic system choose "X Window System" and "Desktop Environment". This will install KDE as well as GNOME.
When prompted for Video driver, say "vesa" for VM and for real hardware search the list.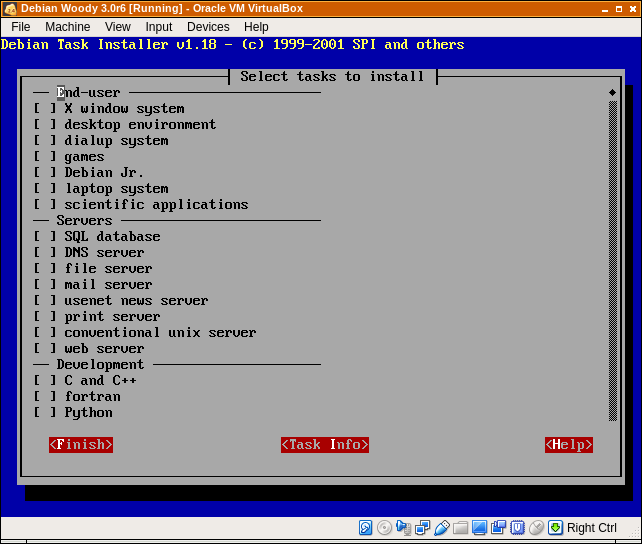 After this step a very long list of package names will roll down your screen and he asks if you really want to continue with downloading and installing. Say "Y".
At this moment debian archive download speed is something around 80kb/s, this takes a while for my package selection (~40minutes). Other times installing from debian archive this was much faster.
You can't rely on high-speed in an archive, for obvious reasons.
The next step is to configure the mail server, we skip that by typing 5 and RETURN.
Now we can login and we have our debian system up and running.
If you want to shutdown or reboot login and type:
< poweroff >
or
< reboot >
Later I am writing another post about some more configuration, X, KDE, ...
It will also come with a lot of screenshots for you.
I hope it was intersting for you, even if you're not going to install and just
look at screenshots of old software.