Internet Explorer 5 for Unix - Solaris 2.6
I got the solaris 2.6 image from winworldpc.com working!
I used El Captian + Homebrew + Qemu. I had to first build Qemu with homebrew and that was the longest build ever, a few hours. Homebrew had a few warnings saying it no longer supports El Capitain, but it worked regardless. I can't take any credit. Someone wrote an amazing tutorial here:
https://learn.adafruit.com/build-your-own-sparc-with-qemu-and-solaris/overview
I couldn't use the IE5 solaris bzip2 file from winworldpc.com because bzip2 says the file is corrupt.
So I found this instead.
https://browsers.evolt.org/archive/ie/solaris/5.0/ie5setup.sunos5.gz
Keep in mind that solaris 2.6 does not have bzip2 or gunzip .. just tar. So I gunzipped the file on my mac before using classic ftp to transfer the ie5se3tup.sunos5 over.
After running the setup from the command line, it ended with a successful message:
Internet Explorer 5 for UNIX Installation is Complete!
You can run iexplorer from /export/home/ietester/ie5/bin
Unfortunately when I run iexplorer, I got the following error when I try to run IE from the command line:
Error: OS patch(es) required to be installed before running Internet Explorer. See error log at /var/tmp/IE_host_check.err
For more information see: /export/home/ietester/ie5/sms/mwcheck_platform.README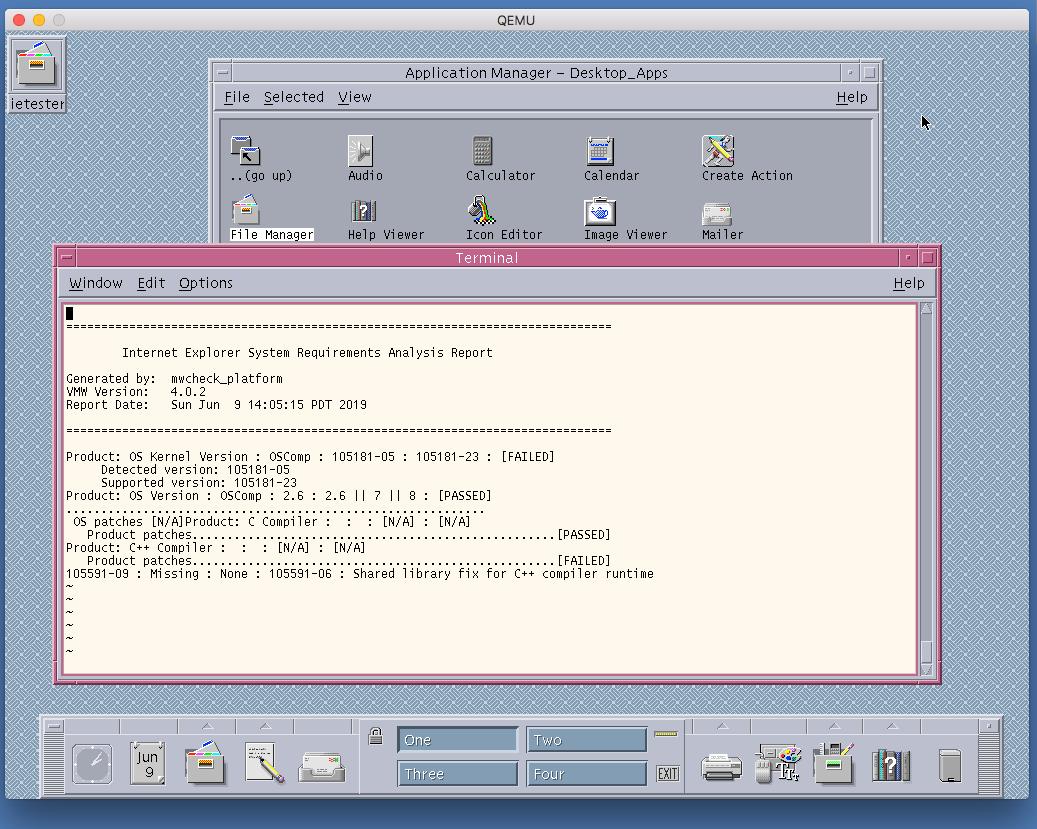 The install log is complaining about a Shared library fix for C++ compiler runtime.
I need the patch for the C++ Compiler seems to be the solution.
Does solaris 2.6 need some type of update from a fresh install?