Software spotlight: Ventura Publisher 1.0
Ventura Publisher was the first popular desktop publishing program on the IBM PC platform. At 1.0's release its features exceeded that of PageMaker on the Macintosh. It ran acceptably on existing PC, XT, AT computers and clones, making it possible to use existing and commodity hardware.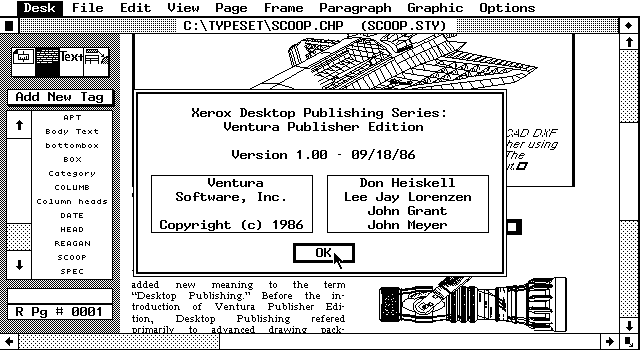 https://winworldpc.com/product/ventura-publisher/10
The promise of desktop publishing was to enable personal computer users to produce high quality, professional looking, printed documents with complex formatting. All without the need for a proprietary, expensive typesetting system. Although, ideally, also in such a way that documents could be sent to such professional typesetting systems for mass publication.
Prior to Ventura Publisher's release, there was hardly even anything for the IBM PC platform that one could call desktop publishing. There were some single purpose formatting programs and rudimentary printing tools. Word processors lacked formatting abilities needed for advanced publishing.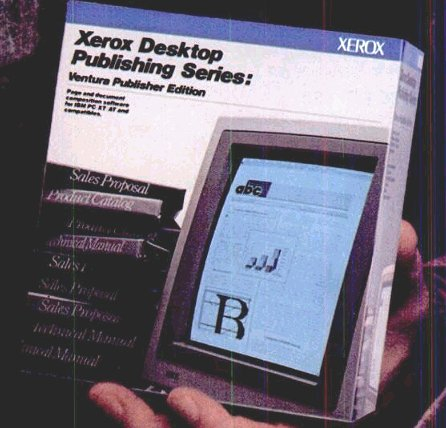 When Ventura Publisher was first released in 1986, its primary competition was Aldus PageMaker on the Macintosh. At release, not only did it manage to have more features than PageMaker, but it managed to run acceptably even on 4.77 MHZ 8088 based IBM PC machines. It appears that PageMaker 1.00 for Windows (AKA "PC PageMaker") was not released until the very beginning of 1987.
Ventura Publisher was written by Ventura Software, made up of many people who previously worked for Digital Research. It was branded and distributed by Xerox and included support for Xerox 6065 PCs, but it was not related to any of Xerox's previous publishing software.
It was implemented as an application for the Digital Research GEM environment. This gave it a very easy to use, Macintosh-like user interface, and the flexibility to use other video, printer, and input drivers developed for GEM. Ventrua Publisher included a runtime, so users did not have to purchase GEM separately.
Aldus PageMaker on the Macintosh had the advantage of a more powerful CPU. Yet, Ventura Publisher managed to run acceptably on all IBM PC, XT and AT computers. Reportedly, Ventura Publisher was written using much assembly-level programming.
Although Ventura Publisher was a rather high-priced program, the ability to run on existing and less expensive PC and PC clone hardware made it very attractive. This was especially true compared dedicated typesetting hardware that was much, much more expensive.
Of the features that were praised:
It has the ability to automatically re-export edited text to native word processor formats, such as WordStar or Microsoft Word for DOS. Since desktop publishing programs lacked most word processor features, this feature made it very easy to edit and revise documents using external word processors. One could almost think of this as embedding another program's document.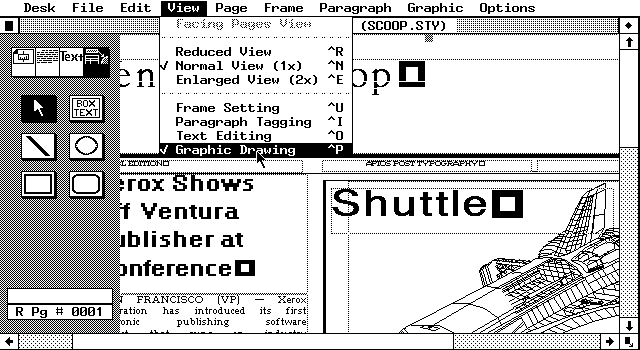 It can also import images from a wide variety of graphics programs, and has the ability to preform very basic drawing from within the program.
It features the use of style sheets, that enables it to produce consistent formatting across multiple documents.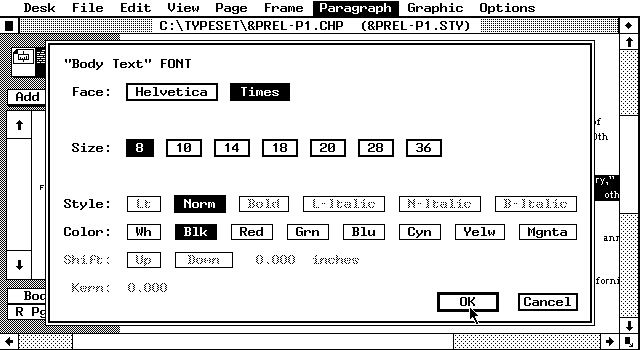 Its ability to print to a wide variety of printers, including PostScript and PCL laser printers, as well as dot-matrix printers. The one limitation was that printer ROM or downloaded RAM fonts were replaced by generic fonts on the screen. This made it not quite WYSIWYG, but early Microsoft Windows also suffered from this issue.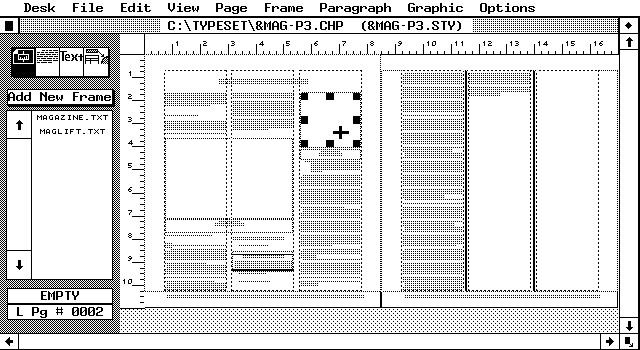 It features "text greeking", the ability to display small zoomed-out text as grey lines, greatly increasing rendering time.
Other features include copying/moving, hyphenation, index generation, headers, footers, kerning, leading, drop caps, ruling lines, and colors.
It could also easily handle very large documents when they are split in to multiple files. Even with a full 640k, the amount of free document memory was rather small. It did not initially make use of EMS/XMS memory.
It supports a variety of video systems including IBM CGA, EGA, Hercules, Xerox 6065 / AT&T 6300, MDS Genius Full Page Display, Xerox Full Page Display, and Wyse WY-700.
After Ventura Publisher 1.0 was released, it soon faced competition from PageMaker for Microsoft Windows (on Windows 1.x), and Harvard Professional Publisher (a short lived product). Later competitors included FrameMaker, Indesign, and QuarkXPress.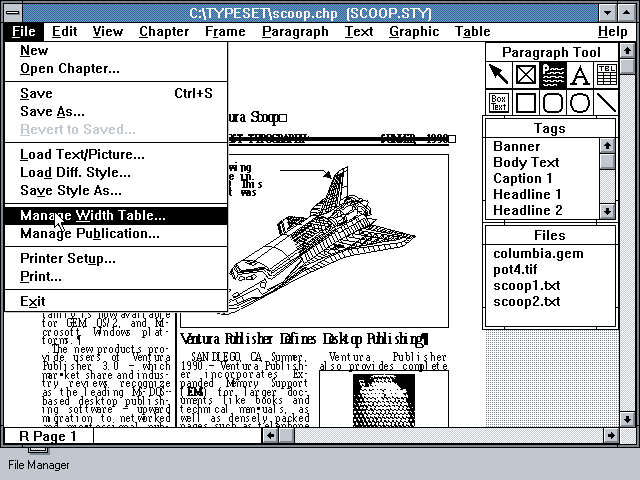 Ventura Publisher 3, released in 1990, was the first for Microsoft Windows, and ran on Windows version 3.0. There was also a port to OS/2.
In 1993, Ventura Publisher was acquired by Corel.
The final release was version 10 in 2002.
Ventura Publisher faded in popularity. Mainly because there were so incredibly many desktop publishing program popping up. Mac users were more likely to adopt PageMaker on the PC, and QuarkXPress became popular for its document accuracy.
Note: Winworld is still looking for the OS/2 version.
Leave a Comment