Software Spotlight - Ashton Tate Framework 1.0
It feels kind of odd spotlighting a program I haven't gotten to run yet, but I want to draw attention to Ashton-Tate Framework 1.0. The Framework office suite is historically notable as the first all-in-one office suite for IBM PC compatible computers. It was originally created by Forefront Corporation for Ashton-Tate and first released in 1984. It has a built in word processor, spreadsheet, database, outliner, graphing, and telecommunications. Framework provides a text-based "gui", including windowing and menus and all of the different components behave in similar, consistent ways.
Download library page here:
https://winworldpc.com/product/framework/10

But more relevant to this specific version, it is copy protected using laser-holes/damaged area. What that means is that even a Kryoflux or SuperCard Pro can not copy it!
I have not tried running it from the original disks yet, because I am not too keen on letting it write back to the originals.
Since I am running short on time right now, I will let the fine folks here have at it and see what they can come up with.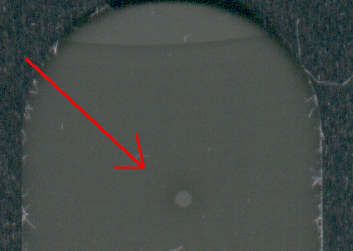 The master and master backup both have a small circular "bad spot" over the innermost track on the first (bottom) side. Plotted graphically, this bad area can be "seen" in the stream dump as an area of noise.
The bad spots on the master and backup are at slightly different locations relative to the index. This means it could know the difference between the two. The executables on each disk are encrypted, and the executables are different on each disk.
It could be that each executable has been "calibrated" specifically for every disk. There was some recent discussion on the Kryoflux form about another title that might do something like that. In that case, just making the sector "bad" would not be good enough. It would have to be "bad" at exactly certain byte locations. In that case the software would read the bad sector and compare what it wrote for known good bytes.
I did try writing a disk and placing a scratch over that sector. It came out looking similar on a Kryoflux dump, but the software still stuck its nose up at it.
The software requires that the original disk be in the drive and not write protected when the program is run, even if the program files are copied to a hard drive. A flyer included in 1.0 suggest that the next version (1.1?) would still be copy protected but permit hard drive installs without a keydisk.
On top of that, these disks look rather low quality. I have a hard time imagining they would have lasted long even when new.
Not sure about Framework II since we don't have that, but Framework III is not copy protected.
Off the top of my head, I am not aware that the PCE emulator can simulate bad sectors. Perhaps someone else can find a trick that would make it work.
Copy II PC NoGuard claims to support Framework, but it did not seem to work with these disks. I suspect its support is actually for Framework 1.1, not 1.0. That will not duplicate the disk, but would serve as an uprotect to make it run.
So, what do you folks think?
Leave a Comment