Software Spotlight: Springboard Certificate Maker
Springboard certificate maker is a kind of cheesy little certificate printing program. 8) It can print a variety of fun and silly certificates from a collection of 200 templates.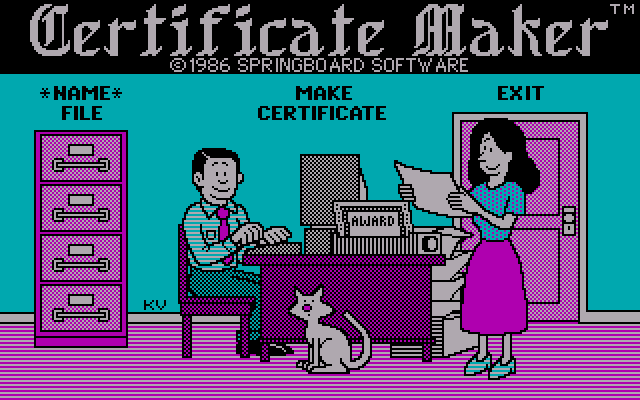 https://winworldpc.com/product/springbo ... cate-maker
Certificate maker is very reminiscent of the original Print Shop, but lacks customizability and lacks the ability to preview anything on the screen.
It supports a number of monochrome and some color dot-matrix printer. Impressively, it includes a selection for the HP Laserjet, which enables compatibility with some newer PCL compatible printers.
To create a certificate, you enter the template number, some body text, signature line text, and a date, and then tell it to print.
You can not change the template's predefined title text, or any graphics. To actually see what each template looks like, you must refer to the printed manual. I've tacked on a copy of the Apple II manual (This one was from Apple2Online, but there is another at Archive.org), and the templates seem to be the same.
In all fairness, it seems the design of this program was intended for earlier 8-bit computers. There are versions for the Atari, Apple II, and Commodore 64 computers.
This IBM PC version does not appear to add or change much functionality over any other versions, but I think by 1986 people would have expected a tad more from an IBM PC program.
Still, it is a decent program to have for a vintage computer. It should run well on a 360K floppy-only PC or XT, provided you have an appropriate printer. One source claims it requires 256K of ram, but it seems like it should work with less.
Incidentally, I welcome comments on these "software spotlights". The whole purpose is just to momentarily focus on some applications that might be interesting. They are not always about newly unearthed programs - this one was floating around, but if I can get around to it I have a copy of Springboard The Newsroom for IBM PC that will probably be worth a few words.
Leave a Comment