Software Spotlight: Windows 3.0
There have been several interesting Windows 3.0 related additions lately.
First, The Windows 3.0a 360k version has surfaced. This is a rather uncommon release, as it was only available on special request from Microsoft. Most computers that would run Windows 3.0 well at the time had 1.2mb, 720k or 1.44mb drives. However, a few did have 360k drives.
https://winworldpc.com/product/windows-3/30

Please keep in mind the earlier non-"a" 360k version (dated 5/1/1990) has yet to be archived, so please keep a lookout for that. The non-"a" version would be even less common, as the "a" version (dated 10/31/1990) was released a few months later.
The file layout on the 360k disks above are not very well organized. Setup will ask for some disks multiple times, and out of sequence.
Second, the Windows 3.0 TestDrive VGA version has surfaced. This means now you can try out the demo version in a VGA PC or emulator without modifications.
https://winworldpc.com/product/windows-3/30-testdrive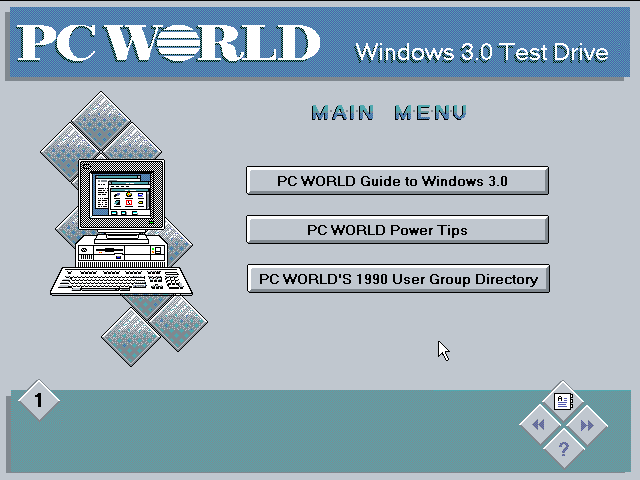 The Windows 3.0 Test Drive is a demo floppy set that could be obtained for free through PC World. It consists of a stripped down minimal Windows 3.0 install and a PC World interactive sideshow.
It doesn't include much. Just the Program Manager, File Manager, a slideshow demo, and everyone's favorite: Solitaire!
Windows 3.0 is sort of an interesting version. It was really Windows 3.0, coupled with the availability of the Microsoft Office Suite, that for the first time made Windows look like a serious business product.
This was all around the same time as the famous IBM-Microsoft fallout, so Microsoft had been putting much effort in to making Windows a solid product that could stand on its own.
In Windows 3.0, Microsoft added the File Manager and Program Manager. These were similar to those in IBM OS/2 1.x. Although rather pathetic compared to the Apple Macintosh desktop, they gave the feeling of being a little more Mac-like.
Windows 3.0 merged the separate Windows 2.11/286 and Windows 2.11/386 lines in to one product. With a switch at the command line, one can run Windows 3.0 in Real (8088), Standard (286), or Enhanced (386) modes.
As I understand it, (and probably have this wrong) Standard and Enhanced modes work quite a bit differently from Windows 2.x. Standard mode somehow shoehorns real-mode applications in to 286 segmented address space. Applications specifically compiled for Standard Mode can make much better use of it. Then, 386 Enhanced Mode supposedly just takes Standard Mode and throws it in to some kind of VM. The 386 mode can emulate EMS memory, and enables ".386/VxD" drivers that run outside of the VM system without taking up real-mode memory. The applications inside this are all still "16-bit", use segmented memory addressing, and have 64k data structure limits.
Windows 3.0a was the last version to support running on an 8088/8086 based PC/XT or compatible. (Technically, Windows 3.0 MME was the last that could run, but all of the MME components required a 286, leaving you with just plain Windows 3.0.)
With the 360k version of Windows 3.0 together with the 360k version of DOS 6.22, you would be all ready to max out your IBM 5150 PC or IBM 5160 XT! Well, unless you are this wiseguy with a Cyrix 586 CPU upgrade in a 5150 that can make it run Win 3.1 and DOOM! http://www.vcfed.org/forum/showthread.php?57033-running-5x86-cpu-in-IBM-5150-with-Inboard-386
Practically speaking, there was very little use for Windows 3.0 on an 8088/8086 machine, as virtually all "3.0" native applications required at least a 286. In 8088 Real Mode it could continue to run most Windows 2.x applications.
The only Real Mode compatible native Windows 3.0 application that I know of currently is AfterDark 1.0 for Windows: https://winworldpc.com/product/after-dark/10
Note that although Windows 3.0 supports 8088 CPUs, oddly the color VGA driver requires a minimum of an 80186 or NEC V20. A patch can be found here (scroll down to the second one)
http://www.vcfed.org/forum/showthread.php?35593-Windows-3-0-VGA-color-driver-for-8088-XT
In the background, Microsoft was working on Windows NT, a cross-platform 32-bit protected mode OS. There were plans to replace Windows 3.x with NT as soon as just after 3.1. But instead, the DOS-based Windows dragged on until about 2001 when Windows XP replaced Windows ME.
Leave a Comment