Nothing works
I'm sorry, but I'v downloaded several versions of MS-DOS, IBM PC-DOS, not only from your site.
NON OF THEM ARE WORKING. MOSTLY THE PC ANSWERS WITH "NO SYSTEM DISK" OR NOT EVEN THAT! All sources declares they have only double checked guaranted working software. It's not true ! The IMG files are too big for a diskette, open the file is not possible, extract causes errors on each file, a.s.o. For the only one working version of MS-DOS 6.22 I had to use several tricks to create working diskettes. But they not realy working, because after the finished setup, the computer can't start from the HDD.
Each OS need a bootmanager. Not one of the downloaded softwares could create one!
30 years ago I'v create a diskette with different boot sector copys, but I can't read it, because it was writen on a Toshiba T350. If you search in the www for this computer, you will get just Toshiba hallogen lamps with the same name, and anything else, but NO COMPUTERS. I found only ONE picture of my first machine. The same I also still have, only in spanish...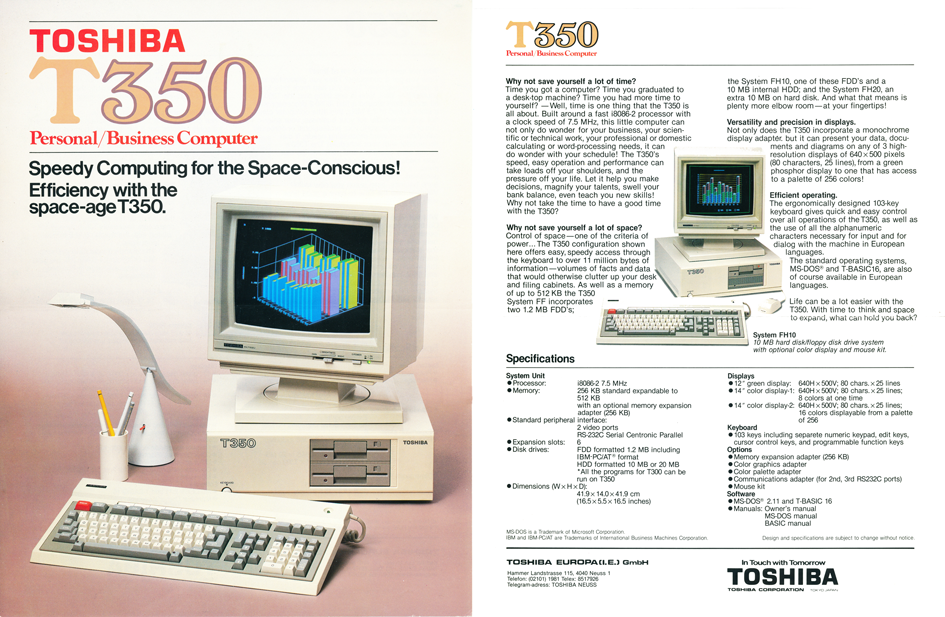 I was working for Toshiba at this time. I still own the math cooprocessor wich I purchased for 200.-CHF.
Do have somebody on this planet a realy working diskette with MS-DOS 6.22 ??????