The Perfect Computer Case
I have been thinking a lot about what, in my opinion, would make the "perfect" computer case. I prefer stuff that is optimal, efficient, and works well with as little nonsense as possible.
Anyone who has looked at computer cases recently will know that such cases are quite rare now.
Years ago, I bought one of last one of these cases off of Newegg: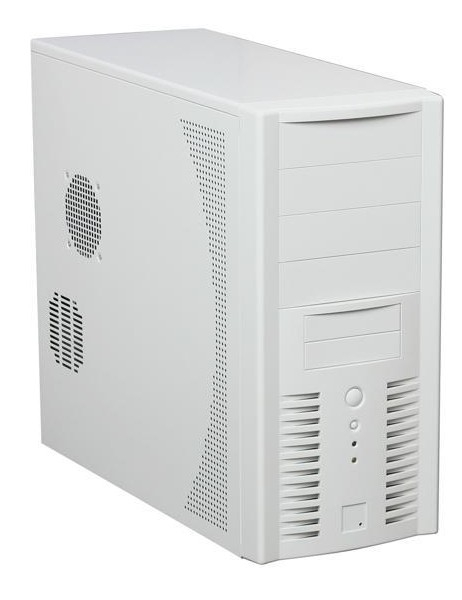 Aside from a few nitpicks with the front audio/USB port, it was close to being perfect.
What is a "perfect computer case" then?
Number one: It should be no-nonsense. No bullshit. No silly gimmicks. No over-the-top branding. No facny or proprietary "designer" features. No obnoxious flamboyant garbage like ultra-bright blue or rainbow animated LEDs.
Number two: It should go without saying that it should be BEIGE. I want to actually be able to SEE my case, not have a black hole sitting my the corner of my room. Yes, dirt will stand out more, but that is GOOD because then I know I need to CLEAN it!
Next, it should have a steel frame, not some aluminum crap that crumples if I breath on it. I should be able to sit on it without crushing it like a soda can. When I get angry, I should be able to whack it without putting too much of a dent in it.
For use with anything non-vintage, it should be full ATX, fitting a full sized ATX motherboard with cutouts for all possible expansion card backplates.
Once a backplate cutout is removed, it should accept standard blank backplates that are screwed in individually. (I have one crappy case where the backplates are all held in by a single bar. Very hard to use as a test machine since I have to leave it unscrewed, leaving all cards loose)
I prefer full towers, but mid tower or short tower are OK if I know I am not going to load up the drive bays.
There should be no drive doors over the drive bays. (Doors can keep dust out, but they get obnoxious).
No propitiatory drive or floppy bezels. Each drive has its own front bezel (preferably also beige).
It should not require funky drive mounting hardware. Just plain old standard screw mountings.
For any recent CPU, air circulation is very important. There should be good vents on the back and on the side panel, with places to mount fans. Specifically, there probably should be a vent above the CPU on the side panel.
The side panels should be solid metal (steel), not some see-through plastic shit. They should be easy to remove/replace and should have smoothed edges.
The case should have a reset button.
Standard LED colors: Green: Power, Yellow: Turbo (if applicable), Red: Hard drive access.
Power supply should be at the top. It should fit any standard ATX power supply.
On cases for 386-486-P1 stuff, LED speed indicators are cool.
USB/sound ports should be on the front. (or optional, so I could use a drive bay instead) or customize somehow.
So, even given all of that, there are many different front bezel "styles". Of all of the cases I have seen over the years, the best style I have seen are these sorts of Taiwanese clone case styles: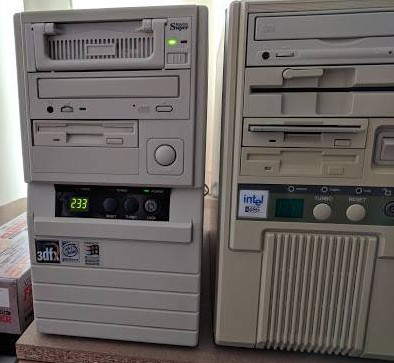 It is designed to be seen, looks "busy" in a way that says "this thing is doing some real work, you want this on your workbench". This was quite common on late 486 and AT form Pentium 1 "no name" machines.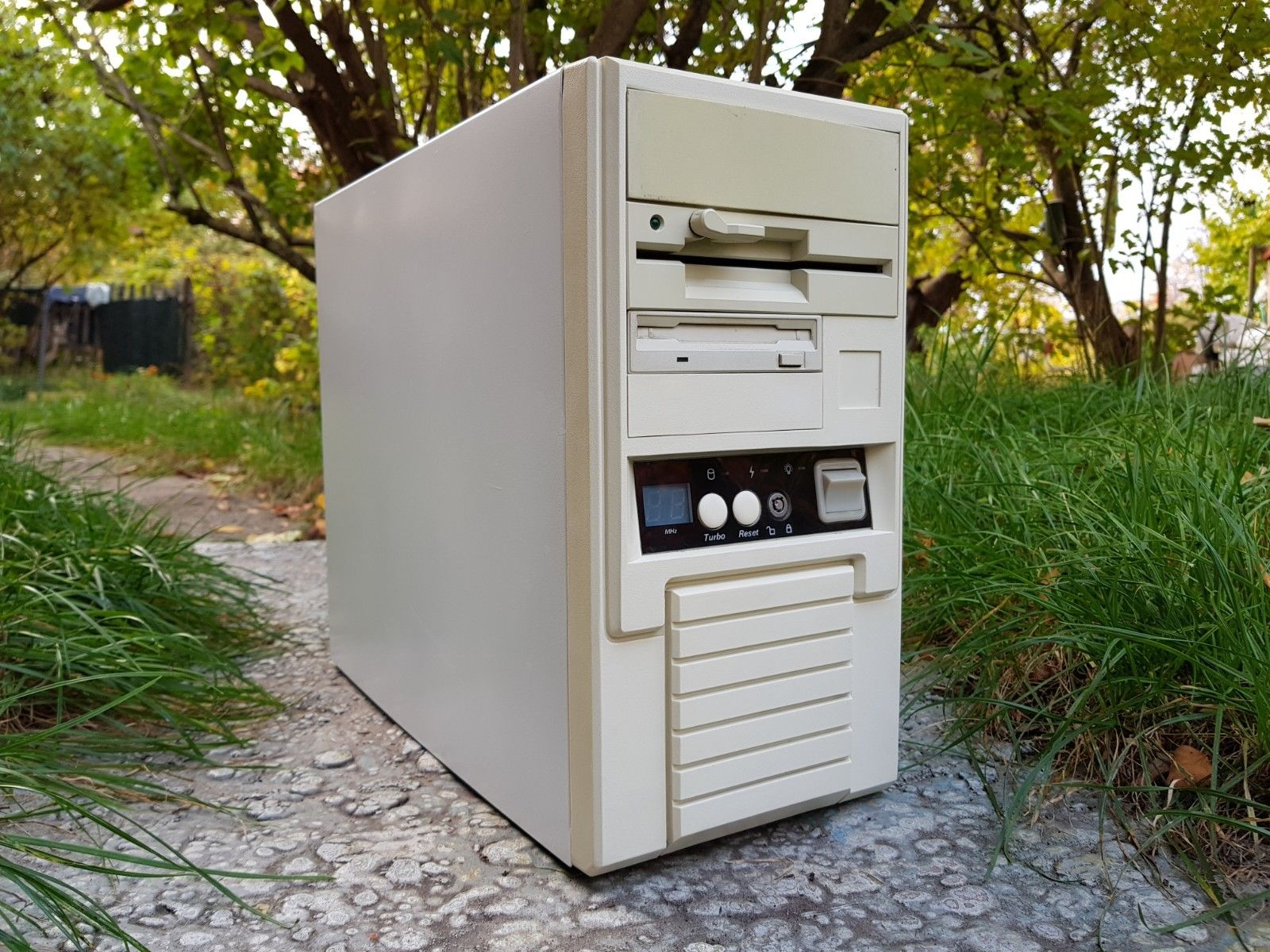 Personally, I can't get enough of these machines.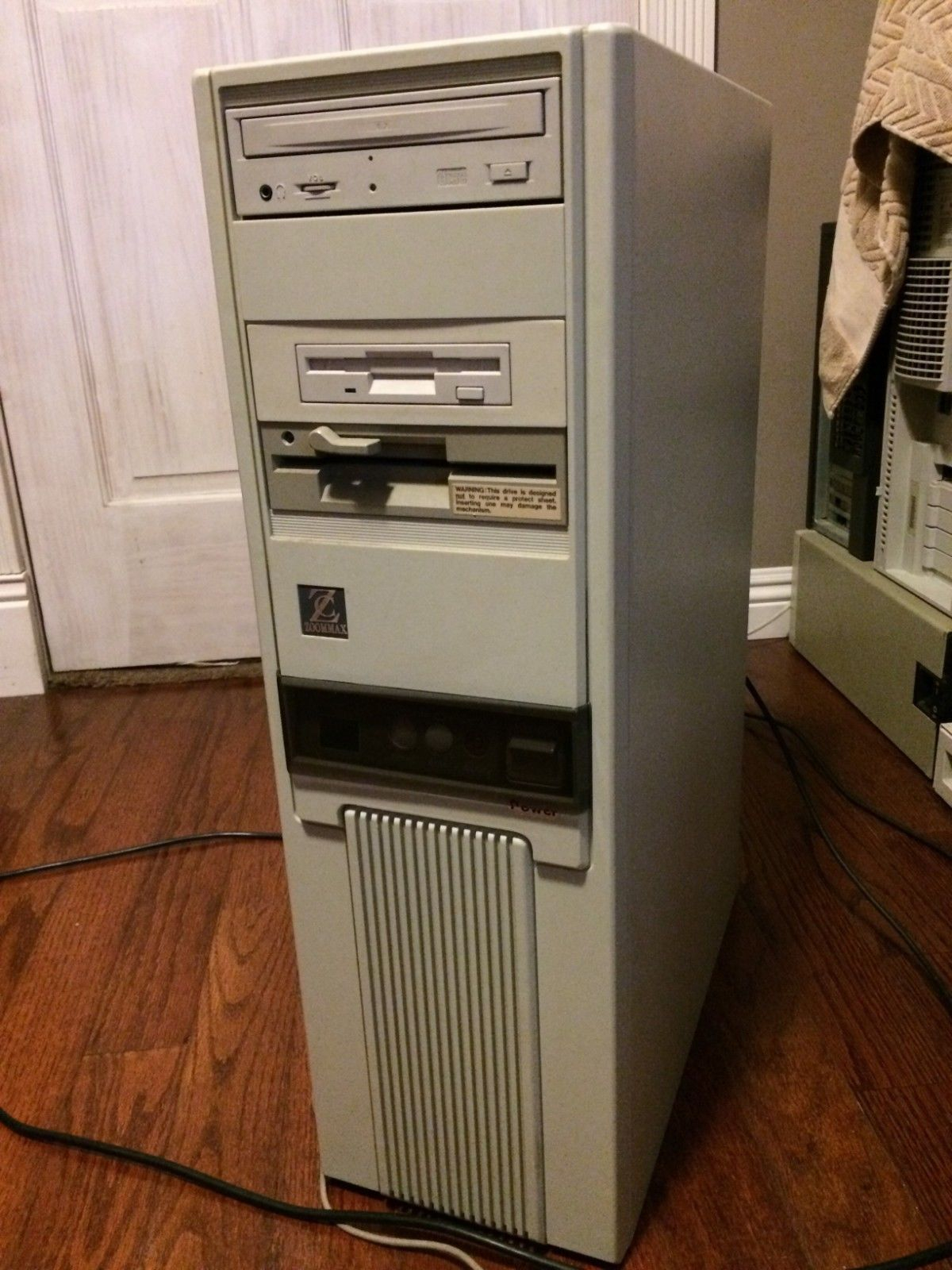 The short mid/mini tower cases were nice for small workstations, but if you wanted to load up a RAID array, multiple CD drives, zip drives, extra floppies, tape drives, perhaps with a dozen serial ports on the back, etc, then you wanted an awesome full tower case like this.
Some of these were more brown/tan than whitish beige, which also looked good.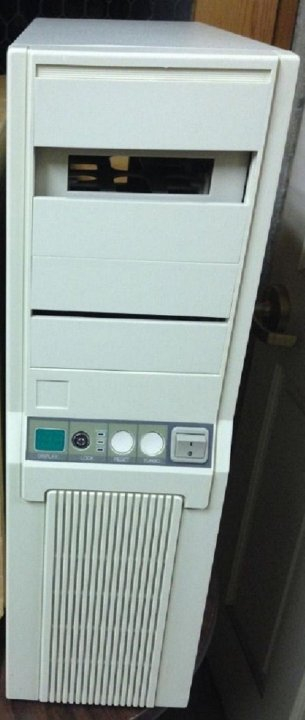 I actually have a case just like this one. It is awesome, and will even fit an oversized early IBM AT 286 style motherboard. You look at it, and you know it is a monolithic tower of power.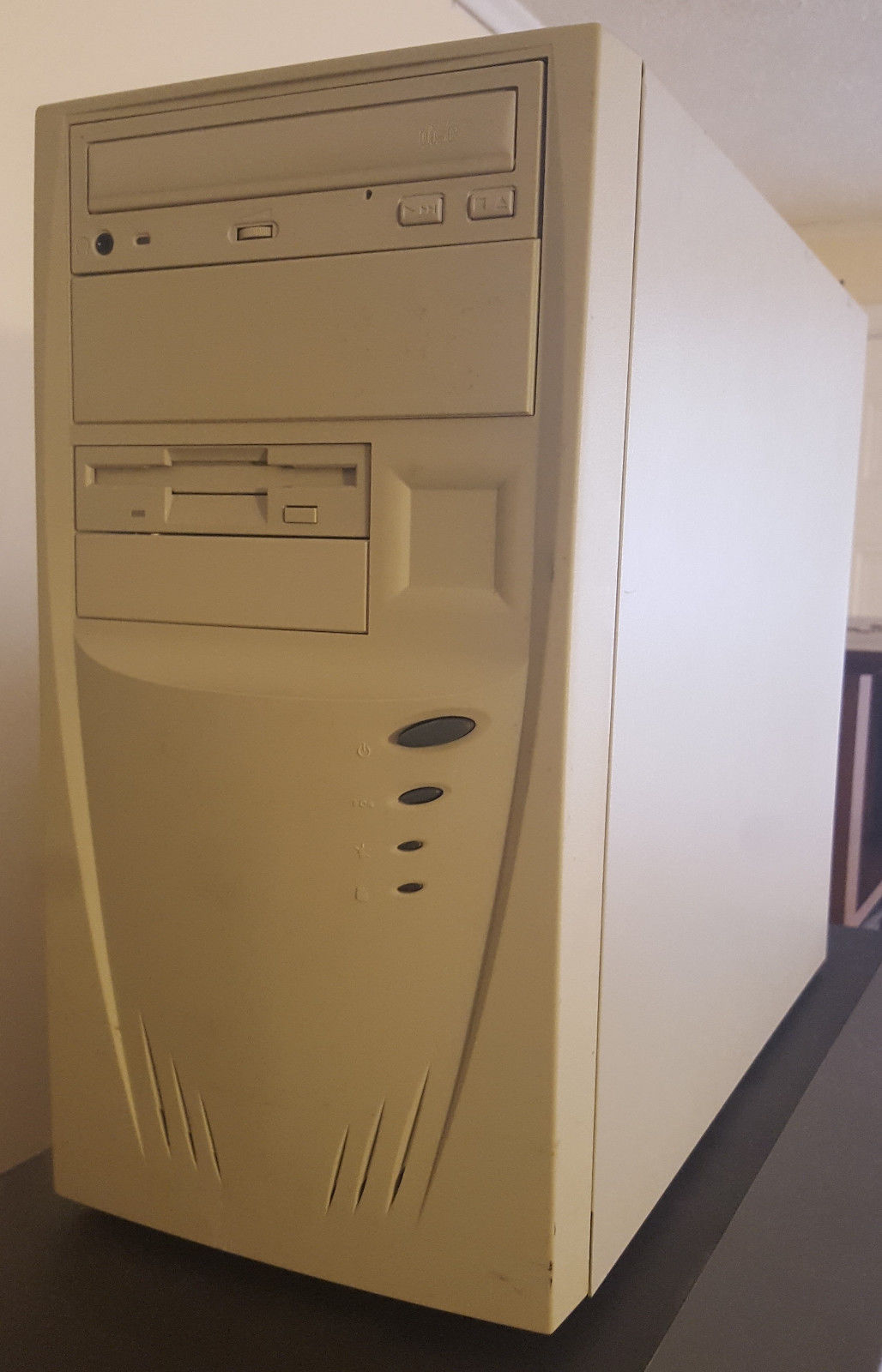 It is too bad you can't really fit an ATX motherboard in those AT cases. But there were ATX beige tower cases like this one that have a simpler, sort of smoothed over, look. lot of OEM clones had cases like this. I've got a full tower ATX case with same design as this one.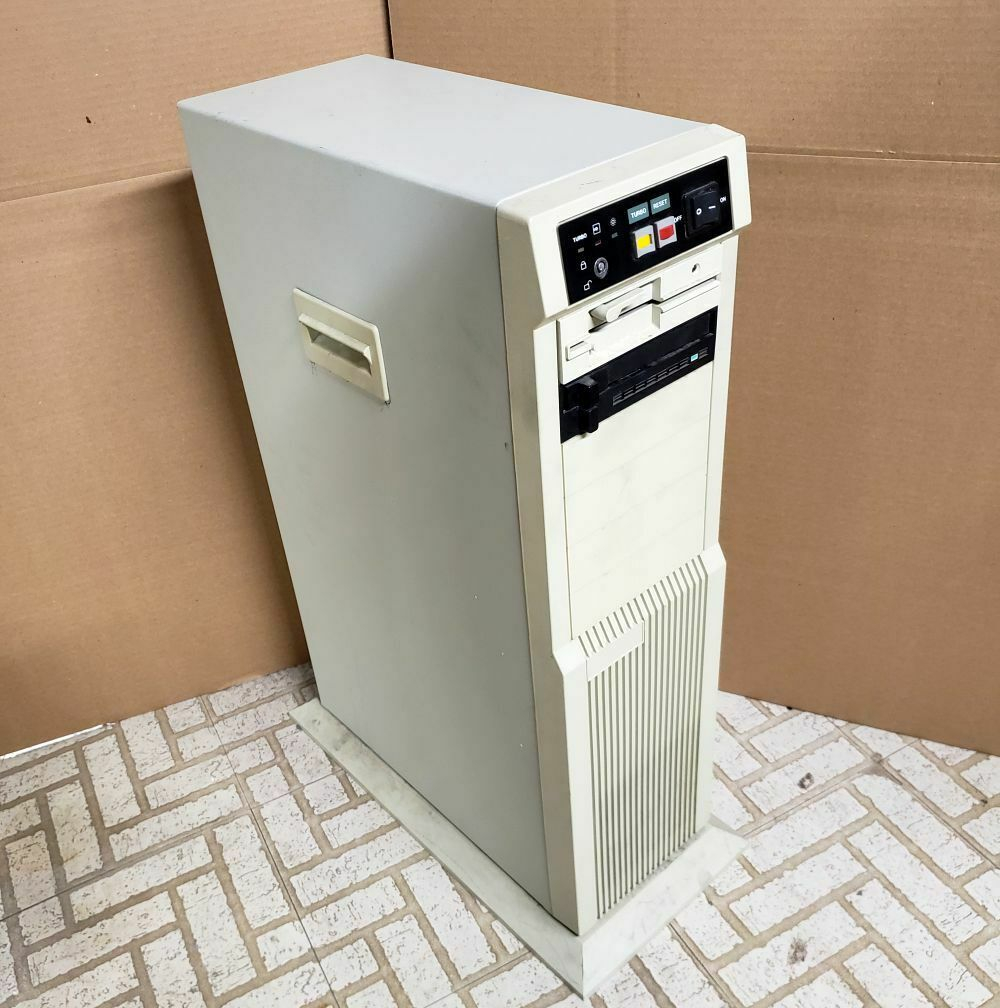 Before everything was rack mount, PC servers just used desktop cases. I can imagine rows of these things whirring away in a server room. The reset and pwoer buttons are right at the top, so, easy to mash when the Novell server craps itself.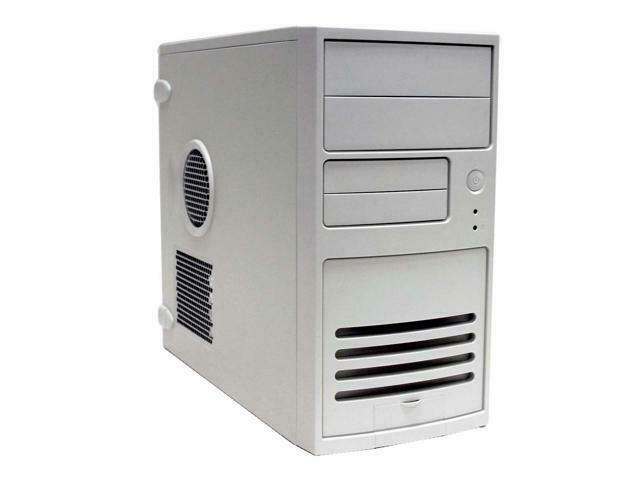 Spotted someone selling this on eBay. Unfortunately it is not a full sized ATX case. It is also not clear if it is aluminum or steel or if it has any blue LEDs.
Of course, the second problem becomes finding drives with beige faceplates. It seemd like around 10 years or so ago, vendors in the US stopped selling beige CD/DVD drives almost overnight. Idiots. It is possible to swap faceplates between some models of CD drives, but there no standard. Interestingly, searching eBay suggests that beige stayed around longer in other countries. I'll see newer beige CD/DVD drives come up in locations outside of the US, but of course those can have issue with nazi-ific region locking.
Beige forever!